This is an archived article and the information in the article may be outdated. Please look at the time stamp on the story to see when it was last updated.
JENKS, Okla. – An Oklahoma senior has to make a tough decision – which Ivy League school will she attend after being accepted into all 8?
Sarah Cameron, of Jenks, was accepted into all 8 Ivy League Schools: Brown University, Columbia University, Cornell University, Dartmouth College, Harvard University, University of Pennsylvania, Princeton University and Yale University.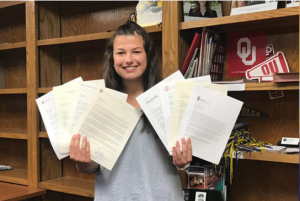 According to Fox 23, Cameron's first acceptance letter came from Yale.
The other seven schools contacted her on Thursday.
Cameron is known for an impressive tennis career, as well as participating in many extracurricular activities such as academic clubs.
She has now narrowed down her choices to Yale, Princeton, and Harvard.
A trip to visit the schools is part of her plan before making a final choice.
Cameron told Fox 23 she is excited to "bring Oklahoma pride to the northeast."
Jenks senior accepted to all 8 Ivy League schools https://t.co/f88V8mD1Tr

— FOX23 (@FOX23) April 5, 2017