This is an archived article and the information in the article may be outdated. Please look at the time stamp on the story to see when it was last updated.
[protected-iframe id="ea7ba5188bbfabea52df7fc66a9a89cb-29519643-98557584″ info="http://w3.cdn.anvato.net/player/prod/v3/anvload.html?key=eyJtIjoiY2JzIiwidiI6IjM3NDU4MzkiLCJhbnZhY2siOiJhbnZhdG9fY2JzbG9jYWxfYXBwX3dlYl9wcm9kXzU0N2YzZTQ5MjQxZWYwZTVkMzBjNzliMmVmYmNhNWQ5MmM2OThmNjciLCJwbHVnaW5zIjp7ImNvbXNjb3JlIjp7ImNsaWVudElkIjoiMzAwMDAyMyIsImMzIjoiRGFsbGFzLmNic2xvY2FsLmNvbSJ9LCJkZnAiOnsiY2xpZW50U2lkZSI6eyJhZFRhZ1VybCI6Imh0dHA6Ly9wdWJhZHMuZy5kb3VibGVjbGljay5uZXQvZ2FtcGFkL2Fkcz9zej0yeDImaXU9LzQxMjgvQ0JTLkRBTExBUyZjaXVfc3pzJmltcGw9cyZnZGZwX3JlcT0xJmVudj12cCZvdXRwdXQ9eG1sX3Zhc3QyJnVudmlld2VkX3Bvc2l0aW9uX3N0YXJ0PTEmdXJsPVtyZWZlcnJlcl91cmxdJmRlc2NyaXB0aW9uX3VybD1bZGVzY3JpcHRpb25fdXJsXSZjb3JyZWxhdG9yPVt0aW1lc3RhbXBdIiwia2V5VmFsdWVzIjp7ImNhdGVnb3JpZXMiOiJbW0NBVEVHT1JJRVNdXSIsInByb2dyYW0iOiJbW1BST0dSQU1fTkFNRV1dIiwic2l0ZVNlY3Rpb24iOiJmZWF0dXJlZCJ9LCJzdGFydFRpbWVvdXQiOjUwMDB9fSwicmVhbFRpbWVBbmFseXRpY3MiOnRydWUsImhlYXJ0YmVhdEJldGEiOnsiYWNjb3VudCI6ImNic2xvY2FsLWdsb2JhbC11bmlmaWVkIiwicHVibGlzaGVySWQiOiJjYnNsb2NhbCIsImpvYklkIjoic2NfdmEiLCJtYXJrZXRpbmdDbG91ZElkIjoiODIzQkEwMzM1NTY3NDk3RjdGMDAwMTAxQEFkb2JlT3JnIiwidHJhY2tpbmdTZXJ2ZXIiOiJjYnNkaWdpdGFsbWVkaWEuaGIub210cmRjLm5ldCIsImN1c3RvbVRyYWNraW5nU2VydmVyIjoiY2JzZGlnaXRhbG1lZGlhLmQxLnNjLm9tdHJkYy5uZXQiLCJjaGFwdGVyVHJhY2tpbmciOmZhbHNlLCJ2ZXJzaW9uIjoiMS41IiwicGFyZW50UGFnZVVSTCI6Imh0dHA6Ly9kZncuY2JzbG9jYWwuY29tLzIwMTcvMTAvMTMvd2hlZWwtZXZpZGVuY2UtbWlzc2luZy1ub3J0aC10ZXhhcy1jb3VwbGUvIiwicGFyZW50VGl0bGUiOiJXaGVlbCBDb3VsZCBCZSBFdmlkZW5jZSBJbiBGaW5kaW5nIE1pc3NpbmcgTm9ydGggVGV4YXMgQ291cGxlIMKrIENCUyBEYWxsYXMgLyBGb3J0IFdvcnRoIiwicEluc3RhbmNlIjoicDAiLCJwcm9maWxlIjoiY2JzbG9jYWwifX0sImh0bWw1Ijp0cnVlfQ%3D%3D" width="640″ height="360″ frameborder="0″ scrolling="no"]
TEXAS – An Oklahoma woman and her fiancé are still missing after taking their plane to the Bahamas for their honeymoon, according to their family.
The couple – who lived in Texas – Donna Grant, of Tahlequah, Oklahoma, and Forrest Sanco – left Texas on September 22 flying a single-engine Cessna, and made stops in Alabama and Florida.
On September 25, they left Florida and flew to Freeport in the Bahamas. Both posted a sunrise on Instagram the next morning.
According to a GoFundMe page set up to help with search efforts, the couple then flew to another island, North Eleuthera, on September 26, to refuel.
The couple were planning on flying to Rum Cay, approximately 120 miles away from North Eleuthera, but never made it. However, officials say they were close to that destination.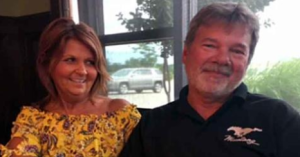 "At 4:58 p.m., we know that he closed his flight plan, which gives us the understanding that he was near Rum Cay and in a position to say his flight was a success up to that point," said Bahamas Air and Sea Rescue Association (BASRA) Operations Manager Chris Lloyd.
10 days after they were last heard from, the couple were reported missing, according to the Dallas Morning News.
Friends and family say they expected service to be in and out on the island. They did not know the two were missing until they did not return on a planned date to Texas.
It is unknown if the two married before leaving or if they planned to marry in the Bahamas.
Earlier this week, fishermen found a wheel, which investigators say matches what Forrest and Donna would have used. However, officials have not confirmed whether the wheel is from their plane.
The family has now hired their own private search plane and crew.
"Everything we raise will go to our efforts to bring them home whatever it takes! Whether it be continuing to hire private crews, medical expenses, or costs involved in trying to get them back home to us. If there are any funds left over at the conclusion the funds will be split between a fund for Forrest's daughter Riley and a donation to the Maritime Search and Rescue fund in the hopes no other family will have to bear this burden," said Forrest's niece, LeeAnn Burger, on the gofundme page.