This is an archived article and the information in the article may be outdated. Please look at the time stamp on the story to see when it was last updated.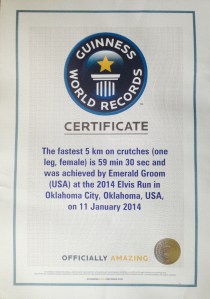 Update: An Oklahoma City woman is now a world record holder.
Emerald Groom is the Guinness World Record holder for the fastest 5K ran on crutches for both men and women.
OKLAHOMA CITY – What do you do with doctor's orders?
Are they more of a suggestion?
An Oklahoma City woman who's not supposed to run, but has entered in a weekend road race is trying her best to earn no less than a world record.
Emerald Groom had her eyes set on running the Chicago marathon but her body had different plans.
After fracturing her right foot and leg Chicago was out of the question, but running was not.
Groom heard about a North Carolina man running a 5K completely on crutches in 1 hour, 4 minutes and 50 seconds. His story inspired her to pick up her running shoes and keep going.
On Saturday, January 11 Groom took part in the Elvis 5K Run at Lake Hefner in Oklahoma City. She was on a mission to set a new world record.
With support from family and friends Groom began her challenge. With determination she crossed the finish line with minutes to spare. Her record time was 59 minutes and 30 seconds.
Grooms next job is to get both feet healthy again, and with permission from her doctor she hopes to be able to run the Oklahoma City Memorial Marathon in April.