This is an archived article and the information in the article may be outdated. Please look at the time stamp on the story to see when it was last updated.
TULSA, Okla. – A woman who mutilated a corpse at a funeral home was sentenced to 16 years behind bars Thursday.
28-year-old Shaynna Sims was found guilty in April of mutilating her boyfriend's lover's body.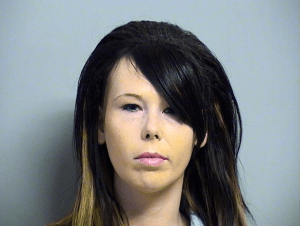 Back in 2015, Sims had pretended to be a funeral home employee so that she would get access to the body of her boyfriend's lover, which was on display for viewing at the time.
Officials say Sims "slashed the woman's face with a pocket knife," cut off a toe and at least one of the woman's breasts', and also cut the woman's hair, along with smudging her makeup.
According to Fox 23, she also stole the woman's belongings.
During her trial, prosecutors said Sims was angry woman who wanted to get revenge.
She was found guilty on five charges:
Stolen property
1st degree burglary
Unauthorized dissection
Disturbing or interrupting funeral
Unlawful removal of a body part from deceased
Sims will now serve 16 years behinds.