This is an archived article and the information in the article may be outdated. Please look at the time stamp on the story to see when it was last updated.

OKLAHOMA CITY — Mike Morgan said, this morning's rain led to quite a bit of flooding, and in some cases the water came very close to homes.
Not exactly how some people wanted to start their Friday. There was a lot of rain and unfortunately there was some flooding.
It's kind of how we all feel on a rainy day except Sherry Davis couldn't spend the day inside because of the mess.
Davis says, "It looks like the Oklahoma River; I mean you are in the middle of the Oklahoma River."
Her Oklahoma City home and yard is prone to flooding.
"That's what I just told my neighbor, I don't even want to clean up this time; it's just going to happen again!" Davis says.
Overnight it poured. NewsChannel 4 storm trackers were out on the flooded roads, and by morning, so were drivers trying to get to work.
In Norman on the OU campus there was enough water to leave drivers stuck.
"I see cars coming through. So I'm coming through [and] apparently my car is a little lower than theirs," one driver says.
The rain also made for this unusual site. Two beavers could be seen crossing the road near Classen Urgent Care Clinic in Norman.
Cheri Noland, who took the photo says, "They were just here on the corner of the curb and they were huge"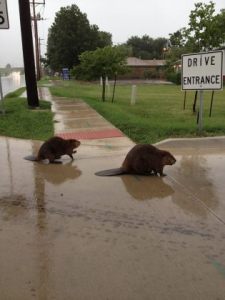 The picture is amusing, but for those like, Sherry Davis, the rain was just a headache because of all the flooding.
"It's been four times this year. May 20th, May 31st, [it] flooded a little bit again on June 5th through here and then this one," Davis explains.
Because of the repeated flooding, that homeowner says she might have to resort to sandbags just to keep the water out every time it floods.