This is an archived article and the information in the article may be outdated. Please look at the time stamp on the story to see when it was last updated.
OKLAHOMA - Have you heard the term "citizen soldier?"
These are men and women working day jobs just like everyone else but also are on standby to respond to emergencies, like damaging tornadoes in Oklahoma or, in times of war, ready to be called to the front lines.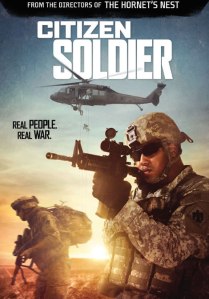 There's a feature film called 'Citizen Soldier' set to theaters in the fall.
The film follows the Oklahoma National Guard to the war in Afghanistan in 2011.
Our soldiers were equipped with their personal cameras and captured footage both chilling and heroic, bound to give you a new appreciation for our heroes.
From the trailer: "This is where you can start expecting contact, alright?"
"IED! IED! IED!"
It's gripping, it's real, it's honest.
Trailer: "What was that?"
"Oh, this is bait for an ambush!"
The feature film is about real people and real war.
It follows the Oklahoma Army National Guard's 45th Infantry Brigade Combat Team, holding onto the label "Thunderbirds" since World War II.
You might recall in 2011, 3,500 of our men and women were deployed to one of the most dangerous parts of Afghanistan, when American troops in the hunt for Osama bin Laden.
This was the largest deployment since the Korean War.
Trailer: "We were going to be walking into a firestorm in Najil. We heard stories about Najil. We heard it was a hot area. Basically, we were going into 'no man's land.'"
Our crews sat down with Eran Harrill, staff sergeant in the Oklahoma National Guard, and talked to him about his time overseas.
He's the citizen soldier behind the documentary, the producer, who gathered footage from his brothers to tell a story of those who fought and died for our country.
"There's never been a film on mainstream or otherwise that highlights a National Guard Unit from any state. Also, Oklahoma is the most storied history National Guard of all followed only by California, is a big deal," Harrill said.
Harrill dreamed of the military since he was a kid.
While in college for Senior ROTC, he found out he was about to become a father.
He realized he couldn't be active duty and stay home for his child, but he could become a citizen soldier.
"The military isn't their full-time job. They don't wake up every single morning and put on the uniform. They hold a civilian job as well, and they balance the two," Harrill said.
Harrill's civilian job? He's the president of the Oklahoma City Black Chamber of Commerce.
He stressed there's a sacrifice in the balance, working full-time and training approximately 40 days a year with the guard.
From his business suit to his uniform, he along with every citizen soldier in the country have to be ready to make the ultimate sacrifice.
Trailer: "I see him out of the corner of my eye down the hill."
"We were going to need to recover a body."
"Sorry, brother."
A shocking reality that still Harrill is still haunted by.
14 men and women were killed within 96 days during that 2011 deployment, 19 Oklahoma soldiers in all, lost since 9/11.
"This is really what this is about - an opportunity to really honor. This is a living tribute. This is going to be on long after I'm gone, long after my kids are grown and they have kids, and that's important," Harrill said.
Recognizing the fight, the bravery and the risk it takes to be a citizen soldier.
Trailer: "There is something noble, something romantic, something honorable about that term, and I just hope you take that term with you until the day you die."
The film is expected to be released in September, around 9/11, which marks 15 years since the vicious act of terrorism changed our nation forever.
To watch the full trailer, click here.