This is an archived article and the information in the article may be outdated. Please look at the time stamp on the story to see when it was last updated.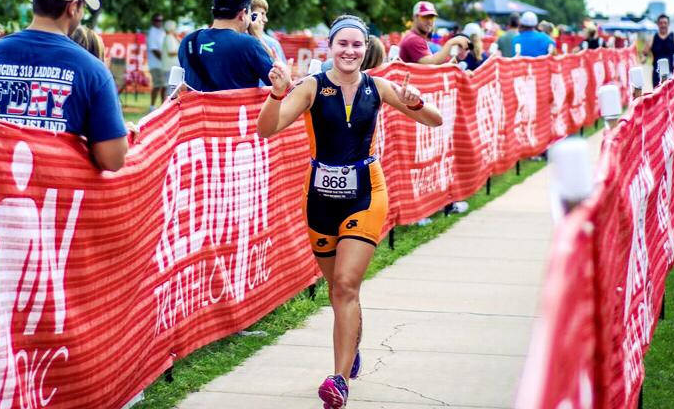 STILLWATER, Okla. — An Oklahoma State University student will be participating in a worldwide running and bicycling competition with Team USA in Adelaide, Australia .
Junior Alex Veenker will be competing in the World Duathlon Championships on October 18. The competition consists of a 10K run, followed by a 40K bike ride, topped off by another 5K run.
Veenker qualified for Team USA after placing first and second in two duathlons she competed in last year.
"My favorite moment, hands down, was back in October at the Fall Classic Duathlon," Veenker said. "The crowd was small, but I saw a lot of familiar faces. It surprised me that they were breaking their concentration to cheer me on. I don't think I've smiled more during a race than I did on that day. I was hooked."
The Oklahoma City native is on the triathlon club in OKC, as well as the club team at OSU. Staying active as often as she can, Veenker is also a personal trainer in the Colvin Center at OSU, specializing in multi-sport and endurance training, as well as teaching group classes.
"I love my job and being able to help people accomplish their goals," she said. "It has helped keep me accountable for my own training and healthy habits because I know I have clients that look up to me, and they invest in me as much as I invest in them."
To train for Australia, Veenker follows a specific workout plan.
During the week, she alternates between upper body and cardio workouts, which include hour and a half bike rides. Then she rests or does yoga on Fridays and Sundays, and Saturdays are for the long bike rides; she regularly bikes 30 miles, and hopes to work her way up to 50 miles by the time she leaves for Worlds.
"I'm a huge advocate for chocolate milk after a workout," Veenker said. "It's also great because it makes me feel like a kid again. Other things I try to do as far as eating habits are concerned is that I meal prep every Sunday. It's been a huge thing for me to stay on track."
To help keep her body in tip top shape, Alex also gets eight hours of sleep every night, she takes a 30-45 minutes nap early in the afternoon, and she drinks at least a gallon of water each day.
"My bottle goes everywhere with me. It's basically my sidekick," Veenker said.
Team USA reportedly does not pay for any of the accommodations or fees for the event, so Alex is having to pay for the week-long trip to Australia on her own. However, she has started a GoFundMe account for those who would like to help her follow her dreams.
"I feel like it still hasn't sunk in that I'm getting to do this," she said. "I remind myself that it's something that's a once-in-a-lifetime opportunity. I'm blessed to get to do this."
Click here if you would like to help Alex Veenker get to Worlds.