This is an archived article and the information in the article may be outdated. Please look at the time stamp on the story to see when it was last updated.
NORMAN, Okla. - The University of Oklahoma begins its 2014 football season Saturday, and police officers in Norman are reminding fans heading to the stadium about the traffic and parking rules.
The Oklahoma Sooners kick off against the Louisiana Tech Bulldogs in Norman at 6 p.m. Saturday.
The Norman Police Department wants fans driving to the game to remember to watch out for workers, safety barriers, and construction signs on the roadways.
Here are some other traffic and parking reminders from police officers in Norman, Okla.: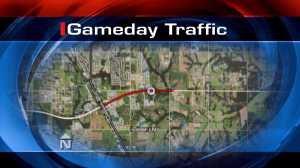 TRAFFIC:
All local I-35 interchanges are open.
Reconstruction of the I-35/Lindsey Street interchange has began, but all lanes are open.
Construction is underway on State Highway 9, on the four mile stretch between Classen Blvd. and 48th Avenue SE.  This area is restricted to one lane of traffic east and west bound, which could cause delays in the area.
Police will provide pre-game traffic assistance along Lindsey Street from I-35 to Elm Ave.
Post-game support will focus on west bound Lindsey Street traffic and motorists traveling east to 12th Avenue SE and northward.
PARKING:
Parking adjacent to the stadium is by permit only.
Your vehicle can be towed for: parking at yellow curbs and inside fire lanes; blocking a fire hydrant, driveway, street or alley; illegal use of handicapped parking; and illegally parking on private property.
If you park on private property, use locations that have proven trustworthy.
Do not block sidewalks.