This is an archived article and the information in the article may be outdated. Please look at the time stamp on the story to see when it was last updated.
NORMAN, Okla. – Two students from the University of Oklahoma who are accused of participating in the racist chant that went viral have been expelled.
OU President David Boren announced Tuesday that he expelled two students who played a leadership role in the singing of a racist chant in connection with the Sigma Alpha Epsilon fraternity event.
The letter President Boren sent to the students reads in part:
"This is to notify you that, as President of the University of Oklahoma acting in my official capacity, I have determined that you should be expelled from this university effective immediately.  You will be expelled because of your leadership role in leading a racist and exclusionary chant which has created a hostile educational environment for others."
I have acted today to expel two students who were leaders in the singing of a racist chant. See press release – DBo pic.twitter.com/VypOiVqXi7

— David Boren (@DavidBorenOK) March 10, 2015
No word on the identity of the two SAE members who were expelled.
However, Jesuit College Preparatory School of Dallas officials released a statement, saying a graduate led the racist chant.
"In the recent video regarding OU and the SAE fraternity it appears that a graduate from Jesuit Dallas is leading the racist chant. I am appalled by the actions in the video and extremely hurt by the pain this has caused our community. It is unconscionable and very sad that in 2015 we still live in a society where this type of bigotry and racism takes place. All of us at Jesuit Dallas are deeply committed to create a culture of justice and equality for all. This was certainly true when the School became the first in Dallas to integrate and it is true today. Unfortunately, isolated incidents throughout our society remind us that there is still much work to be done. Jesuit Dallas calls on all men and women of good will, God's will, to fight against a culture of racism, bigotry and of death, including that of the unborn," said Mike Earsing, the president of the school.
According to KXAS, officials with the Jesuit College Preparatory School of Dallas confirm that their graduate, Parker Rice, is the one involved in the racial chant.
Rice later released a statement apologizing for his part in the racial chant.
"I am deeply sorry for what I did Saturday night. It was wrong and reckless. I made a horrible mistake by joining into the singing and encouraging others to do the same. On Monday, I withdrew from the university, and sadly, at this moment our family is not able to be in our home because of threatening calls as well as frightening talk on social media.

"I know everyone wants to know why or how this happened. I admit it likely was fueled by alcohol consumed at the house before the bus trip, but that's not an excuse. Yes, the song was taught to us, but that too doesn't work as an explanation. It's more important to acknowledge what I did and what I didn't do. I didn't say no, and I clearly dismissed an important value I learned at my beloved high school, Dallas Jesuit. We were taught to be 'Men for Others.' I failed in that regard, and in those moments, I also completely ignored the core values and ethics I learned from my parents and others.

"At this point, all I can do is be thoughtful and prayerful about my next steps, but I am also concerned about the fraternity friends still on campus. Apparently, they are feeling unsafe and some have been harassed by others. Hopefully, the university will protect them.

"For me, this is a devastating lesson and I am seeking guidance on how I can learn from this and make sure it never happens again. My goal for the long-term is to be a man who has the heart and the courage to reject racism wherever I see or experience it in the future.

"Thank you for your consideration of my deepest apologies for what I did."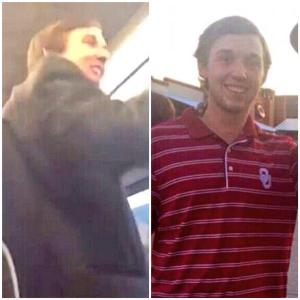 Another one of the SAE members in the video has been identified as Levi Pettit.
Pettit's parents released a statement Tuesday evening, confirming it is their son in the video.
As parents of Levi, we love him and care for him deeply. He made a horrible mistake, and will live with the consequences forever. However, we also know the depth of our son's character. He is a good boy, but what we saw in those videos is disgusting. While it may be difficult for those who only know Levi from the video to understand, we know his heart, and he is not a racist. We raised him to be loving and inclusive and we all remain surrounded by a diverse, close-knit group of friends.

We were as shocked and saddened by this news as anyone. Of course, we are sad for our son – but more importantly, we apologize to the community he has hurt. We would also like to apologize to the – entire African American community, University of Oklahoma student body and administration. Our family has the responsibility to apologize, and also to seek forgiveness and reconciliation. Our words will only go so far  – as a family, we commit to following our words with deeds.

To our friends and family, thank you for your kind comments and prayers. They are very comforting in this difficult time.

We ask that the media and public please respect our family's privacy as we come together to heal and determine next steps.
It is unclear if Parker and Pettit are the two students who were expelled.
The University of Oklahoma said it does not plan on releasing the names of the students, citing the Family Educational Rights and Privacy Act.
The Faculty Senate at the University of Oklahoma praised Boren's response to the video and said they plan to recommend ways to promote diversity on the campus.
"The Faculty Senate stands united against racial injustice.  We support the recent actions of President Boren connected with closing the SAE House and marching with students to protest a video that became public yesterday.  The words and actions in the video are abhorrent.  We reaffirm our shared commitment to fostering a campus culture of inclusiveness, equal opportunity, respect, and caring for others, and we stand together with our students and administration in seeking to protect and strengthen these values at OU.  The Faculty Senate will recommend concrete actions to promote lasting improvements to diversity and inclusion on this campus."
Barry Switzer, a legendary OU football coach, also released a statement on the situation.
"While I support the University of Oklahoma and SAE's decision to pursue swift actions, this situation is unfortunate for the many innocent people involved. As a long-time supporter of the University and member of the SAE chapter, I know the majority of our students don't condone or participate in bigotry. These incidents are not a reflection of the true spirit of our campus. I hope that we can begin to heal the wounds by avoiding rhetoric that fuels the fire and instead spend more time thinking about how we can collectively create positive relationships and interactions among our campus family."