This is an archived article and the information in the article may be outdated. Please look at the time stamp on the story to see when it was last updated.
NORMAN, Okla. – A University of Oklahoma professor who has been nominated for a White House position has stepped down as vice president for research at the university.
Kelvin Droegemeier, a meteorologist and Vice President of Research and Regents' Professor of Meteorology at the university, was nominated by President Trump to be Director of the Office of Science and Technology Policy.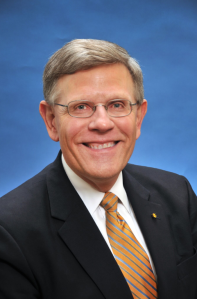 The position, which has been vacant for the past 19 months, guides the president on issues like self-driving cars, artificial intelligence, emerging medical research and climate change.
Droegemeier has been a member of the OU faculty for the past 33 years, according to Science Magazine.
The university says he is stepping down in order to prepare for the upcoming confirmation hearing.
"It has been my privilege and honor to serve as vice president for research under OU Presidents Boren and Gallogly, and I have loved working with our faculty, staff and student scholars to help advance their research and creative activity," said Droegemeier. "I deeply appreciate President Gallogly's support in allowing me to step down now so I can devote full attention to the Senate confirmation process."
An interim vice president for research will take the position, and then a national search for a permanent vice president for research will take place at a later date.
"We are extremely grateful for Kelvin's service and leadership through this transition. He decided to step out of the vice president role in order to support the university's fast-paced vision in research, and we are incredibly supportive of him throughout his preparation for this new role," said OU President Jim Gallogly.
Droegemeier will take a leave of absence without pay from the university upon U.S. Senate confirmation.