This is an archived article and the information in the article may be outdated. Please look at the time stamp on the story to see when it was last updated.
EL RENO, Okla. - The parents of three children killed in an El Reno house fire have spoken out.
On Tuesday afternoon, emotional James Redbird and wife Kee Yanna Osage stood side-by-side.
"We are in total devastation right now. You can only imagine what it's like to lose three children of your own. I just ask that the kind people continue to pray and keep us in your prayers as we do our best to lay our children to rest. We did the best we could for our children," the father said. "We just want to thank everybody for the prayers, the donations. We're not asking for anything. We're just asking for prayers at this time."
"Please," the mother added.
The children have been identified as 22-month-old Mayley Jean Redbird, 3-year-old Gunner Ray Redbird and 4-year-old Amylah Dawn Redbird.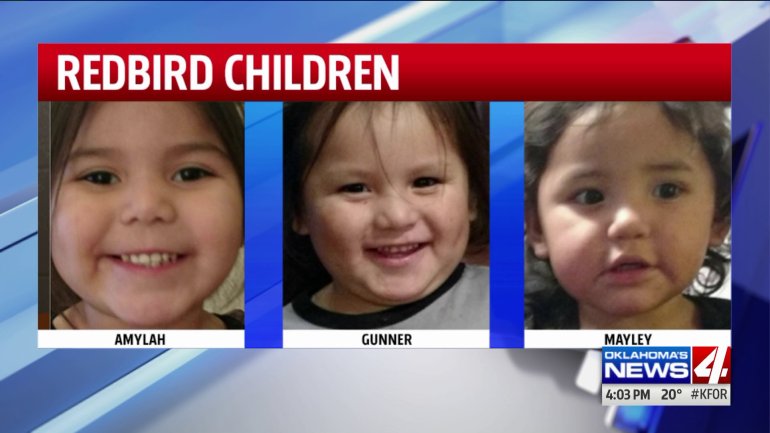 The three died early New Year's Day following the fire at their house in the 200 block of North K Avenue.
The family is devastated, but the whole El Reno community was hit hard by the loss.
"It's just a terrible, terrible, gut-wrenching feeling to have these three, beautiful lives lost from our community. Our community is very upset along with the family. Our hearts and prayers go out to the family and the firemen that had to go out to that scene. It's just gut-wrenching," said El Reno Mayor Matt White.
The cause is still under investigation at this time. Officials said the fire was contained to one room, where the three were sleeping. Chief Kent Lagaly also told News 4 space heaters were in use in the house.
The cause of death has also not been released yet, but Lagaly confirms the children's injuries were consistent with smoke inhalation. The chief also expressed his sympathy for his people that were there on the scene to witness the devastation.
"Those things that I and other first responders are feeling are second to the family right now, and that is where our focus is going to be and to support them in any way we can," he said.