This is an archived article and the information in the article may be outdated. Please look at the time stamp on the story to see when it was last updated.

MIDWEST CITY, OK — Terry Parker stood by a terrified mother's side as she pleaded for her baby's life. He's been called a hero for his efforts as they waited for police to arrive, but he disagrees.
"I really don't play any part other than just being there," says Parker.
As you can see on surveillance video, Parker simply blocks the aisle off with his cart with his 14-year-old daughter at his side. He says he's not sure why, but his first instinct was to make sure Sammie Wallace wasn't going anywhere.
Parker says, "Not having a clue what to do but positioning myself in a place where one way or another if that gentleman were to come our direction he would have had to go through me or our cart."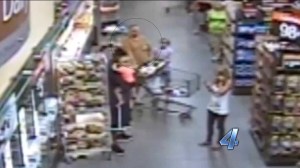 He says in the moment he wasn't scared but knew the situation could have changed for the worse in an instant.
"He would make small approaches in my general direction," says Parker. "Almost as if he were feeling me out if I was going to stop him and I would just move with him and gravitate in the same direction."
He looks back at the surveillance video wondering what it was he could have done differently, but nothing comes to mind.
"I think the thing that bothered me more was that I probably walked passed that guy two times in that store and saw him every time," said Parker. Knowing that when he did finally take the child he had been behind me several paces but he had been right behind me."
He just stands there, calm and collected. Letting Wallace know if he wants to go anywhere he'd have to go through him first.
Earlier today in a press conference, Midwest City Police Chief Brandon Clabes thanked Parker for his efforts inside the Neighborhood Market during the short period of time it took for officers to arrive on the scene.
"We appreciate the efforts of Mr. Parker inside the store," said Clabes.
Parker says there was nothing special about what he did that day, certainly not heroic.
"That word keeps being thrown my direction and I'm uncomfortable with that terminology," said Parker. "I'm just a local pastor. I own a regular business here in town and i just happened to be shopping. I didn't even get my groceries that day as we know."
Just a concerned citizen that has lived in Midwest City all his life and says he has the most faith in his local police department.
"I don't believe they didn't do anything they shouldn't have done. I believe everything they did was right on cue," said Parker. "I know Officer Huff made a choice that I would never want to make."
Both families stay on his mind.
"I tried to give the mom my name and number because I knew one day she is going to want to talk to somebody," said Parker. "Our church prays for his family daily because they are now missing someone in their life."
Knowing officer Huff's life will be forever changed, Parker reminds us that he is not the hero.
Parker says, "He seized that opportunity knowing that that child's life was in imminent danger and he took what shot he needed to take. He's the hero."