This is an archived article and the information in the article may be outdated. Please look at the time stamp on the story to see when it was last updated.
INDIANAPOLIS - Two men arrested in connection with the Indianapolis murder of a pregnant preacher's wife pleaded not guilty Tuesday, according to defense attorney Dominic Martin.
Larry Taylor, 18, and Jaylen Watson, 21, were charged with murder in the death of Amanda Blackburn, who was shot and killed in a home invasion this month.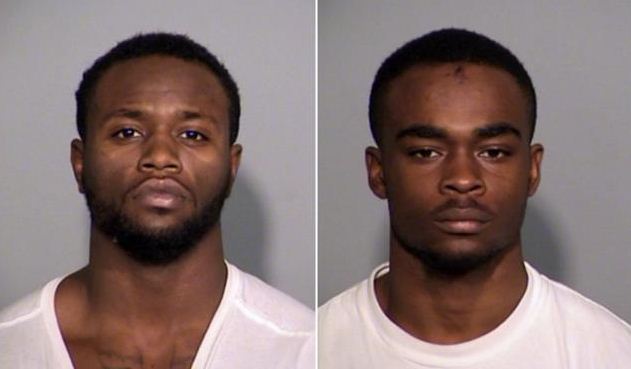 The next hearing in the case is set for January 8.
Earlier, a charging document stated that Taylor would face two counts of murder, murder while in the commission or attempted commission of one of a host of other crimes, burglary resulting in serious bodily injury, robbery resulting in serious bodily injury, two counts of burglary, criminal confinement while armed with a deadly weapon, three counts of theft of property valued between $750 and $50,000, auto theft and carrying a handgun without a license. All but the last charge are felonies.
Marion County Prosecutor Terry Curry said on Monday that Watson, 21, faced the same charges, with the exception that his charging document does not include criminal confinement or carrying a handgun without a license.
The Indianapolis Metropolitan Police Department violent crimes unit worked with the gangs unit and federal marshals to arrest Taylor. Chief Rick Hite praised the cooperation that led to the arrest.
A crime spree
Blackburn was killed at the end of a three-man crime spree, according to newly released court documents that contain information from an unnamed "cooperating individual."
Taylor, Watson and a third man are accused of breaking into a home and stealing car keys, a laptop and an iPhone from the sleeping occupant's bedroom.
At some point during that robbery, the men discovered they were on surveillance video and disconnected the camera, the documents say. Taylor allegedly wanted to kill the occupant because he had been seen on camera, but Watson and the third man convinced him to leave.
They took off in a stolen car and drove to another home, where they stole televisions and a laptop, the documents say. The three men then turned their attention to a third target -- the Blackburns' home.
There, the documents say, Taylor hit Blackburn in the mouth with a gun and stayed behind as the other two attempted to use her ATM card to get money. He later told others that he killed Blackburn after "she charged at him and he shot her somewhere in the upper body so he would not be scratched."
"Taylor them told them that he leaned over her body and shot her in the back of the head. He leaned further, looked at her face, and watched her bleed," the documents say.
A promise
The arrests came 10 days after top police officials vowed to bring the killer to justice.
"We're coming to get you," Hite said at a November 13 news conference.
His assistant commander of investigations, Maj. Eric Hench, also promised results: "To the individual that committed this crime, you are not as good as you think you are. You left behind evidence. We will find it. We have found it. We will find you and we will not stop until we get you."
Police were called to the Blackburns' home on the morning of November 10 and found Amanda Blackburn, an IMPD news release said.
"When officers arrived, they located the victim at the home, unresponsive, and suffering from apparent signs of trauma," the release said.
She was taken to Indiana University Health Methodist Hospital, where she died the following day.
Amanda Blackburn, 28, was married to Resonate Church Pastor Davey Blackburn and was pregnant when she died, according to a statement from her husband that recounted how a gunman critically wounded his wife and "the next day Amanda and her unborn daughter, Everette 'Evie' Grace Blackburn, passed away as a result of her injuries."
One of the family's representatives, Suzanne Swift, told CNN that Amanda Blackburn was 13 weeks pregnant.
'Everything inside of me wants to hate'
The couple's 1-year-old son, Weston, was home when the shooting occurred. He was unharmed. Davey Blackburn, 30, discovered his wife after returning from the gym that morning, the couple's church said.
The Blackburns moved to Indianapolis in 2012 to start Resonate Church, and "Amanda made it her life's calling to love and serve everyone she knew. Even more, she has made it her life's mission to see as many people as possible come to know Jesus as their personal Savior," a statement said.
Following news of Monday's arrests, Davey Blackburn commended the IMPD's compassion and professionalism, and he put forth three hopes he has for the case: that the courts have the "wisdom on how to prosecute this man," that the perpetrator faces "great consequences" for his crimes and experiences the "life-transforming power" of mercy and grace, and "that Jesus would give me and our family a heart of forgiveness."
Davey Blackburn further said police had assured him that they have a "solidly built case" against the suspect.
"Though everything inside of me wants to hate, be angry, and slip into despair I choose the route of forgiveness, grace and hope," Davey Blackburn said in his statement. "If there is one thing I've learned from Amanda in the 10 years we were together, it's this: Choosing to let my emotions drive my decisions is recipe for a hopeless and fruitless life. Today I am deciding to love, not hate."