This is an archived article and the information in the article may be outdated. Please look at the time stamp on the story to see when it was last updated.
ENID, Okla. -- A man from Perkins was passing through Enid when he saved a woman's life.
About 6 a.m. Monday the woman crashed her SUV into a natural gas line in the area of 30th and Chestnut in Enid.
The vehicle burst into a fireball.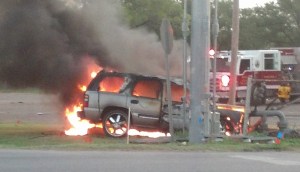 The driver, Maria Alvarado De Hernandez was taken to the hospital with minor injuries.
According to Enid Police Alvarado De Hernandez was pulled her Chevy Tahoe out from a stop sign and was hit by another vehicle.
Alvarado De Hernandez spun around and hit a gas main and then exploded caught fire.
Joe Sullivan saw the whole thing.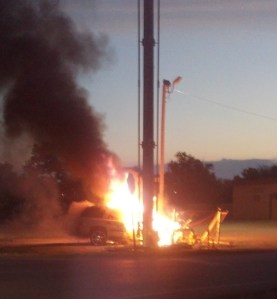 Sullivan leapt into action and rescued Alvarado De Hernandez from her burning vehicle.
Sullivan also captured the scene with the camera on his cell phone (video shown above).
Police say Alvarado De Hernandez was cited for failure to yield right of way and driving without a valid driver's license.