This is an archived article and the information in the article may be outdated. Please look at the time stamp on the story to see when it was last updated.
MUSKOGEE, Okla. – It was not a call animal control officers were not expecting.
Leonard Overcash says he was helping a coworker with some yard work when a zebra bit off a piece of his nipple.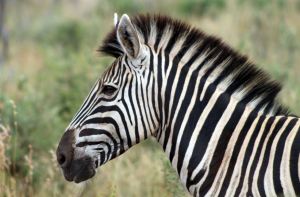 "He was just staring, you know just looking, and he just put his head over the fence and bit me," said Overcash.
Overcash told KOKI he had to get seven stitches.
Even though exotic animals are not allowed within Muskogee city limits, the owner has reportedly had the zebra for 10 years.
She said she never knew she wasn't allowed to have it within city limits.
In fact, she told KOKI that she asked city officials if she needed a permit, and was told no.
Neighbors say the zebra has been good and never given anyone any problems.
Now the owner must get rid of the exotic animal.  She has 30 days to find the zebra a new home.
She also agreed to pay for all of Overcash's medical bills.
Overcash says he is doing much better and he is back at work.
"It hurt. It was very severe. It was very traumatizing," he said.