This is an archived article and the information in the article may be outdated. Please look at the time stamp on the story to see when it was last updated.
LOYAL, Okla. – State and federal agencies are investigating what caused a crude oil pipeline to leak thousands of gallons of oil onto surrounding farmland in Kingfisher County last week.
The Oklahoma Corporation Commission (OCC) notified the federal government about the spill Friday afternoon, according to data from the National Response Center. Follow up reporting to the NRC Sunday listed 'internal corrosion' as the likely cause of the discharge of approximately 450 barrels (nearly 19,000 gallons) of crude oil from the Buffalo Cashion pipeline, owned by Houston-based Plains All American Pipeline, L.P.
Plains employees at the spill site directed questions to headquarters, which released a statement Monday afternoon:
"We are following our emergency response plan, and our staff is working with regulators and affected landowners. Our current priorities are to ensure the safety of all involved and limit the environmental impact of the release."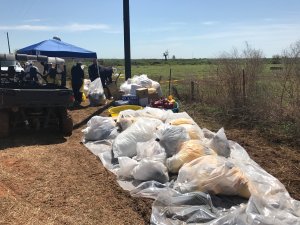 Dozens of workers in yellow protective suits were at the site of the leak Monday, removing a portion of the faulty pipeline and collecting contaminated grass and crops.
"I told my wife this morning it looked like (the characters from the cartoon film) 'Minions' had all come out, all of a sudden," said wheat farmer and cattle rancher Steve Pope.
At first blush, Pope estimates he's lost about 120 acres of pasture and wheat crop from the spill.
"Luckily, we hadn't put (cattle) out here yet. We were fixing to turn cattle out on this grass," Pope said. "One of the head guys was telling me, 'Oh, this is so good for the soil,' and, like I told him, I said, 'Well, why is everybody wearing a hazmat suit?'"
Instead of focusing on his cattle or prepping for harvesting wheat in a couple months, Pope, 58, along with his wife, Sandra, are now walking their land, collecting oily water, grass and taking photos as evidence of the damage – damage you can smell.
"Yeah, it's pretty strong over there," Pope said, pointing out the window of his truck as he drove along the property. "It just smells like it's got a diesel smell – smells like diesel you'd put in your tractor."
Follow-up reports to the federal government state the leak came from a transfer line.
Plains and the OCC said the oil was contained to Pope's fields, an unpaved road and stopped short of nearby Cooper Creek, which feeds into the Cimarron River.
Pope said he doesn't see how oil could not have reached the creek, considering the leak was discovered after the heavy rains last Thursday night into Friday.
"There's probably only another 800 or 900 feet to Cooper Creek so, if it got to the end of our property, I don't see how it couldn't have (reached the creek)," he said.
Reports said rainwater did transport the oil into agricultural drainage but the oil was stopped before reaching the creek.
An Oklahoma Department of Environmental Quality spokeswoman said the agency is aware of the spill, a specialist responded Friday and it continues to monitor the situation.
This is not the first pipeline problem Plains All American Pipeline has experienced. According to data from the U.S. Department of Transportation's Pipeline & Hazardous Materials Safety Administration (PHMSA), Plains had more than 25 pipeline incidents in the state of Oklahoma, dating back as far as 2006; 14 listed corrosion as a cause, six coming from material, welding or equipment failures.
Plains has also been subject to a federal lawsuit for violating the Clean Water Act.
The U.S. EPA said more than 270,000 gallons of crude oil leaked from Plains pipelines and one tank, into navigable waterways or nearby waters, between June 2004 and September 2007.
In 2010, Plains agreed to pay $3.25 million in penalties in connection to the 10 spills in Texas, Louisiana, Kansas and Oklahoma.
The agreement also required Plains to spend $41 million to upgrade more than 10,400 miles of U.S.-operated pipelines; replacing or installing corrosion control equipment, pipeline inspections, assess newly-acquired pipelines, improve leak detection and provide employee training.
Plains operate more than 1,300 miles of pipeline in Oklahoma, second to Texas' 3,500 miles.
The inspection or service history of the Buffalo Cashion pipeline is unclear; requests for historical information from the company haven't been returned.
While Pope is concerned about his fields and his herd, he's also concerned about what may happen to the EPA, now led by former Oklahoma Attorney General Scott Pruitt, if President Donald Trump moves forward with the proposed cuts to the agency.
"What bothers me is we keep seeing the EPA being cut so much," Pope said. "A lot of the regulations that have been put on the oil companies are there for a reason. Sure, there are probably some that are over-regulated but, without those regulations, I wonder if I would have had as quick of a response for guys to come out here and start cleaning this up."