This is an archived article and the information in the article may be outdated. Please look at the time stamp on the story to see when it was last updated.
CANADIAN COUNTY, Okla. – One person is dead after a plane crash in Canadian County, according to the Oklahoma Highway Patrol.
Crews responded Wednesday just after 5:15 p.m. to the scene near El Reno.
"We were notified about 5:13 of a plane crash, location's Memorial Road and Manning Road," said Trooper Mat Conway with OHP.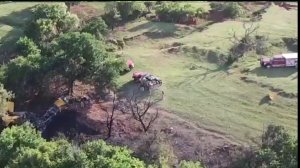 Officials say a crop duster was spraying in the area when it hit a radio tower.
"Single, fixed-wing. It was a crop duster. They were spraying a weed killer. He was flying and making a turn and struck the guy-wire for the cell tower," said Conway.
OHP says the pilot was the only person on board the Ayres S2R, formerly known as an Ag Commander, and was pronounced dead at the scene.
Officials have not released the pilot's name.
Fuel from the plane started a fire in the creek bottom where it crashed.
In a statement, the FAA says "investigators will be making their way to the crash site and the NTSB has been notified. The NTSB  will be in charge of the investigation."