This is an archived article and the information in the article may be outdated. Please look at the time stamp on the story to see when it was last updated.
MOORE, Okla. – Everyone has the opportunity to help contribute to a worthy project for a school that experienced so much loss last May.
A memorial is being constructed along with the rebuild of Plaza Towers Elementary.
The memorial will reportedly honor the seven children who died as well as pay tribute to the heroic actions of teachers, administrators, family members, emergency responders and volunteers from the Moore community.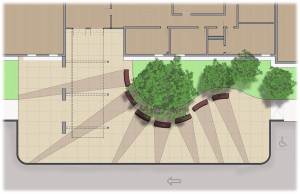 Funding for the memorial is completely reliant on private donations, which can be made online at plazatowers7.org.
The memorial is meant to serve as a reminder of what was lost on May 20th, as well as represent that Oklahoman's are resilient and persevere in the face of adversity.
Seven solid granite benches will have the names of each child and special objects carved into the benches which will symbolize the individuality of each child.
The dedication for the memorial will take place in August at the new Plaza Towers Elementary School.
CLICK HERE TO DONATE TO THE PLAZA TOWERS MEMORIAL