This is an archived article and the information in the article may be outdated. Please look at the time stamp on the story to see when it was last updated.
OKLAHOMA CITY – Police are searching for a pair of men who may know something about a car burglary in northeast Oklahoma City.
Authorities were called to the 7400 block of N.E. 119th St. this past weekend after homeowners reported that their vehicle had been burglarized.
When officers arrived, they were able to take a look at the home's surveillance footage.
The camera captured two people walking around the SUV and even opening one of its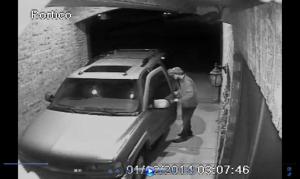 doors.
Anyone with information on the crime, or information on the men, is asked to call CrimeStoppers at (405) 235-7300.