This is an archived article and the information in the article may be outdated. Please look at the time stamp on the story to see when it was last updated.
OKLAHOMA CITY – Two people are dead and two others were hurt after a head-on crash in northeast Oklahoma City earlier this week. A man is now facing charges in the case.
The head-on crash happened early Monday morning near N.E. 23rd and Bryant.
"We need help on N.E. 23rd & Bryant," said a 911 caller. "It's a real bad accident. I don't know. It's real, real bad."
When officers got to the scene, they found one person dead, three others in critical condition.
"It's real bad, so we need someone here real fast," the 911 caller said.
Police said the driver of a silver car went left of center, hitting a taxi cab head on.
"This cab is starting to smoke, the engine is," said another 911 caller.
Both the driver and passenger in the cab were rushed to the hospital, while a passenger in the silver car died at the scene.
Witnesses said the driver was pinned in the vehicle, trying to escape the wreckage.
"The guy that's screaming, the one that's trying to get out, is the one that hit the cab," a 911 caller said.
The cab driver, identified by police Wednesday morning as Neil Thurston, 78, died from his injuries in the hospital on Tuesday.
The driver of the silver vehicle, identified as 48-year-old Charles Greenfield, was arrested on the scene and taken to the hospital.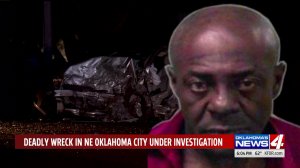 "Exhibited very strong signs of being under the influence of some type of illegal drug," said MSgt. Gary Knight with the Oklahoma City Police Department.
Authorities are now waiting for blood results to see if Greenfield was under the influence of any drugs. Once he is released from the hospital, police said he will be booked into the Oklahoma County Jail for second-degree murder.