This is an archived article and the information in the article may be outdated. Please look at the time stamp on the story to see when it was last updated.
UPDATE 8/13/2014  MIAMI, Fla. (CNN) – Justin Bieber pleaded guilty Wednesday to careless driving and resisting arrest, without violence, in his Miami DUI case.
The plea agreement includes a charitable donation and an anger management course.
It was a change of plea, as Bieber's attorney entered a written plea of not guilty back in January.
Bieber had been arrested and charged with DUI, resisting arrest and driving with an expired license in Miami Beach on January 23.
The DUI was reduced to careless driving.
Bieber was not in court Wednesday.
UPDATE: 8/12/2014 (CNN) — Justin Bieber will plead guilty Wednesday to misdemeanor charges in connection with his arrest in Miami Beach for driving under the influence, resisting arrest without violence and driving without a valid license, a source close to the case told CNN.
UPDATE: MIAMI BEACH, Fla. – This afternoon following his court appearance and posting a 2,500 dollar bond, the pop star walked out of the jail at the Miami-Dade County, Florida Facility.
He emerged wearing a dark hoodie and orange sneakers.
Bieber initially got into an SUV, then quickly jumped on top of the roof and waved.
The vehicle took off, heading to an undisclosed location.
Justin Bieber was charged with drunken driving, resisting arrest and driving without a valid license after police saw the pop star street racing Thursday morning, Miami Beach police said.
#BreakingNews confirming @justinbieber has been arrested for DUI & Drag Racing more info & press release coming.

— Miami Beach Police (@MiamiBeachPD) January 23, 2014
Bieber, 19, was booked into a Miami jail after failing a sobriety test, Miami Beach Police Chief Raymond Martinez told reporters Thursday.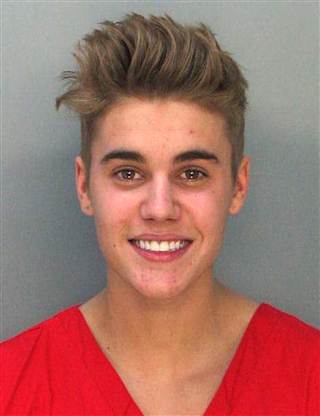 Bieber "made some statements that he had consumed some alcohol, and that he had been smoking marijuana and consumed some prescription medication," Martinez said.
A Miami Beach officer saw Bieber driving a yellow Lamborghini in a race against a red Ferrari in a residential area of Miami Beach, Martinez said.
The cars were speeding at about 55 to 60 mph in a 30 mph zone, he said.
The officer pulled over Bieber's car but the singer was "was not cooperating with the officer's instructions," Martinez said.
"At first, he was a little belligerent, using some choice words questioning why he was being stopped and why the officer was even questioning him," he said.
"When he opened up the window and confronted Mr. Bieber, he smelled a strong odor of alcoholic beverage," Martinez said.
The officer said he believed "Bieber may have been impaired."
Bieber failed a field sobriety test, Miami Beach Police Sgt. Bobby Hernandez told CNN.
Two SUVs "actually blocked the traffic at 26th and Pine Street so that they could race on Pine Street, almost making it like a makeshift race track," Hernandez said.
The Ferrari's driver, whom Hernandez called "an associate of Bieber," was also arrested on a drunken driving charge, he said.
That person has not yet been publicly identified.
Bieber, 19, flew to Miami on Monday.
Other complaints
Another police department in the Miami area is investigating a report that some of its officers escorted Bieber's caravan between Miami strip clubs this week without authorization.
Opa-Locka Assistant City Manager David Chiverton told CNN affiliate WSVN-TV that "at some point, the escort took them at least to two locations that we know of."
"The police administration had no knowledge of this escort, and it is not the norm for those things to occur without the chief and his administration authorizing such escorts," Chiverton told the TV station.
Thursday's incident marks the first time the teen singer has been arrested, although he is under investigation on allegations of egging his California neighbor's home.
Los Angeles County sheriff's deputies used a felony search warrant last week to raid Bieber's mansion in the felony vandalism investigation.
They seized Bieber's iPhone and the security camera system, which detectives have been examining for clues about who tossed eggs over a fence that splattered onto the next-door house, causing an estimated $20,000 in damage.
Deputies have also investigated reports by Bieber's neighbors that he raced his expensive sports car down the streets of the exclusive Oaks community of Calabasas, California, but no charges ever resulted.
One neighbor accused Bieber of spitting in his face during a heated confrontation last March.
Deputies have responded to complaints about loud parties at Bieber's place.
The Los Angeles County district attorney's office concluded it couldn't prove the spitting or speeding cases in court, so it declined to prosecute.
Prosecutors also rejected a misdemeanor battery complaint from a photographer who accused Bieber of attacking him in the parking lot of a Calabasas shopping center as he was taking photos of Bieber and his then-girlfriend, Selena Gomez, in May 2012.
"We didn't do this search warrant to send a message," Sheriff's Lt. David Thompson said last week. "That's not what we do but we hope maybe that understanding the gravity of this will change some of the behavior."
Hours before police confirmed the arrest, Bieber posted this short video on Instagram.
[protected-iframe id="87662abe5de1708fee500694a2f99f33-29519643-20541861″ info="//instagram.com/p/jfzbC1gvpV/embed/" width="612″ height="600″ frameborder="0″ scrolling="no"]
According to CNN this is the first time the 19-year-old singer has been arrested.