This is an archived article and the information in the article may be outdated. Please look at the time stamp on the story to see when it was last updated.
OKLAHOMA CITY -- Oklahoma City police are looking for a suspect they said is tied to 13 robberies throughout the metro since Aug. 13. 
His targets are convenience stores, hotels and quick loan stores.
In several cases, victims have said this robber is friendly but then goes into a bathroom to put on a mask and comes out with a gun. 
Sherry Elenburg, who works at Best Western in southwest Oklahoma City, remembers her first encounter with the crook last week.
"A gentleman comes in the door and he says to me, 'Good morning, ma'am.'"
But within minutes, Elenburg said the man's cheery disposition gave way to a chilling demand as he held another employee at gunpoint.
"He says, 'Give me your money,' and I panicked and he said 'Ma'am, I'm not going to hurt you, I promise you.'"
Sherry showed us surveillance video that captured the robber wearing a black silk bandanna over his face while leading her and another employee to a storage room.
"We stayed back over there in that corner," Elenburg said in the storage room. "We both wedged ourselves in there because we were scared to death."
The robber told them to stay in that room for 10 minutes while he raided the desk for cash.
But there was something odd about his demeanor.
"He was trying to be so polite about it, like he didn't really want to be doing it," Elenburg said. "Maybe circumstances are causing him to do it."

It's a similar story at other crime locations.
One victim told police the "suspect made the statement to them saying he was not going to hurt them, he only needed the money to pay bills."
"It's my understanding that nobody has been injured in any of these robberies," OKC Police Sgt. Jennifer Wardlow said. "But again, that could always be something that could change."
"I was a wreck," Elenburg said. "I've never experienced anything like that."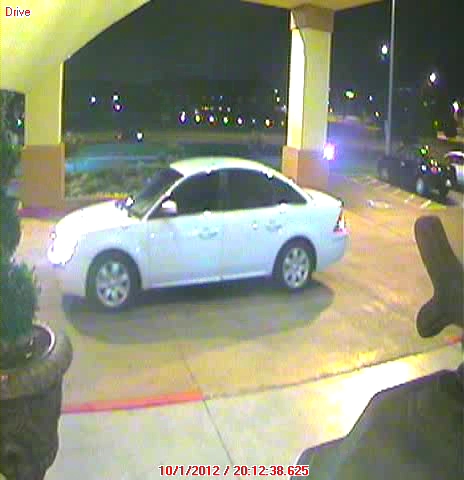 Police said the suspect description is a black male in his mid-20s, between 5'9 and 6'0" tall, 180 pounds with a slight mustache and goatee, short hair and a large tattoo on his right shoulder.

The suspect vehicle is a four-door white Ford 500, made between 2005 and 2008, with tinted windows and an Express Credit Auto Tag.
Call Crimestoppers at (405) 235-7300 with any information.