This is an archived article and the information in the article may be outdated. Please look at the time stamp on the story to see when it was last updated.
[protected-iframe id="240a53661312c35917db27a9e071c71c-29519643-62065474″ info="http://player.theplatform.com/p/2E2eJC/nbcNewsOffsite?guid=tdy_gosk_cop_150824″ width="635″ height="500″ frameborder="0″ scrolling="no"]
LAKE CHARLES, La. – A man who allegedly shot a Louisiana trooper in the head told him "you're going to die soon" during the attack, authorities said.
Trooper Steven J. Vincent, 43, is in critical condition after the shooting Sunday in Lake Charles, said Col. Mike Edmonson, superintendent of Louisiana State Police.
"The gunshot has messed up his neurological output," he said. "Simply … his brain is not telling the rest of his body what to do."
The suspect tried to flee the scene, but other motorists wrestled a shotgun from him and detained him with the trooper's handcuffs, Edmonson said.
The trooper had stopped to help Kevin Daigle, 54, whose pickup truck was stuck in a ditch, according to Edmonson.
Vincent realized the suspect's vehicle matched the description of one reported driving recklessly and started talking to Daigle, who appeared to be impaired and was alone in the truck.
Daigle opened the truck's door and came out with the shotgun, authorities said.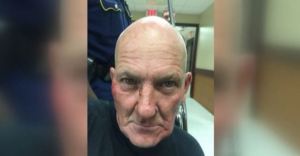 "You could hear him breathing, telling him, 'You're lucky. You're lucky — you're going to die soon.' That's the words that came out of his mouth," said Edmonson, who said he listened to a recording of the interaction.
Vincent, a veteran trooper, is married and a father of one.
"All she wants to hear is his voice, that's all," Edmonson said of the trooper's wife. "I just pray … I don't know what else to do. Here's a guy who's given 13 years to the Louisiana State Police."
The suspect faces various charges, including attempted first-degree murder of a police officer.