This is an archived article and the information in the article may be outdated. Please look at the time stamp on the story to see when it was last updated.
OKLAHOMA CITY – Police are searching for a man who is wanted in connection to an attempted home invasion in southeast Oklahoma City.
Early Friday morning, police say a man attempted to break into a home and threatened the family who lived there with a gun.
The man later ran away and the family called police.
Police have been searching for the man ever since.
They believe he is in the area near S.E. 44th and Sunnylane Rd.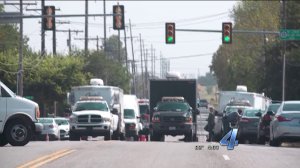 There was a standoff in the 4400 Block of Lunow Dr. which lasted several hours.
The tactical team did get inside but did not locate the suspect.
His whereabouts are still unknown.