This is an archived article and the information in the article may be outdated. Please look at the time stamp on the story to see when it was last updated.
OKLAHOMA CITY—Investigators are asking for the public's help finding a man that allegedly burglarized a truck late last week.
Police say the suspect was inside the vehicle for quite some time and stole several items.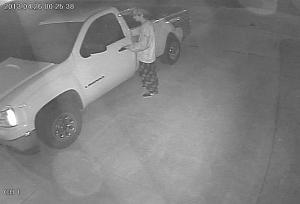 A surveillance camera captured images of a person officers would like to speak to about the crime.
Anyone who recognizes the man should call Crime Stoppers at (405) 235-7300.