This is an archived article and the information in the article may be outdated. Please look at the time stamp on the story to see when it was last updated.
MUSTANG, Okla. – Police say they have arrested two people in connection with a home invasion in Mustang.
Authorities were called to the 200 block of W. Pine Way following an armed home invasion.
After arriving on the scene, police say they were able to arrest two alleged suspects.
Officials say they were able to find some of the stolen property and the firearm used in the crime.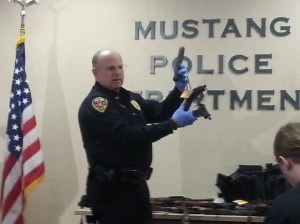 In all, police were able to seize cell phones, cash, electronics and guns.
They arrested 22-year-old Toron Hayes and a juvenile.
That teen's identity has not been released.
Hayes is being charged with robbery with a dangerous weapon, possession of a firearm during commission of a felony and conspiracy.