This is an archived article and the information in the article may be outdated. Please look at the time stamp on the story to see when it was last updated.
ALTUS, Okla. — An 83-year-old woman was sexually assaulted in her own home on Wednesday, June 3, police say.
Around 10 p.m. that night, the suspect knocked on the door of the woman's home. The door was not locked, so he let himself in, according to reports.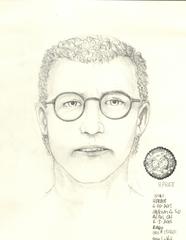 Police say he sexually and physically brutalized the woman, breaking several bones in her body.
The woman was interviewed by investigators, and was able to give a description of her attacker.
The man is said to be a white male in the his late 30s, standing 5 feet 7 inches tall and weighing about 160 pounds. She says he has bluish eyes and his hair is light sandy brown, short, and curly. She also says he was wearing glasses with light brown, round, plastic frames. The man is said to have a tattoo on his right shoulder.
The victim bit the man on his right arm, according to reports.
Police say he drove away from the scene in a cream or white colored newer two-door short bed pick up truck.
If you recognize the man in the sketch, please contact the Jackson County Sheriff's Office at 580-482-0408.