This is an archived article and the information in the article may be outdated. Please look at the time stamp on the story to see when it was last updated.
UPDATE: 7:00 a.m. Friday
NORMAN- The Oklahoma Highway Patrol identified the victim of a drowning at Lake Thunderbird.
The man drowned Wednesday night after he swam out to retrieve his boat at Lake Thunderbird.
Christopher Park, 59, of Choctaw, was unloading his 14-foot boat from the trailer at the Little Axe Campground boat ramp when he slipped and fell and his boat began to drift, said Lt. Mike Roe, a trooper on scene.
Park then went out to a rocky point at the ramp, entered the water and swam to retrieve the boat, which continued to drift away, Roe said.
A witness tried to go in after Park when he saw what happened, but the water was too cold, the trooper said. Unable to get to the boat, treading in about 12 feet of water and unable to get back to shore, Park drowned.
Crews got to the lake with equipment around 6 p.m. and found him about an hour later.
It was the first drowning to occur at Lake Thunderbird this year.

LAKE THUNDERBIRD, Okla. – OHP troopers confirmed that a man has drowned at Lake Thunderbird. The victim is a 56-year-old male.
He and his wife had gone out to spend the day at the lake. Sources say they were pulling the boat on or off of the trailer when he slipped and went under water.
He never resurfaced. Their family have been gathering in the area.
They have recovered his body but they are not releasing his name at this time.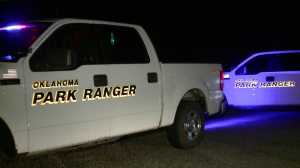 This all took place at the Little Axe Recreation Area.
Divers were called to the scene just before 6:00 pm.
Check back to kfor.com and watch NewsChannel 4 for new information on this story