This is an archived article and the information in the article may be outdated. Please look at the time stamp on the story to see when it was last updated.
NORMAN, Okla. — Four people charged in connection with the murder of an OU student will go before a judge later this week.
In April, police were called to the scene of a shooting at an apartment complex near S.E. 24th and Lindsey St. in Norman.
When police arrived, they found 20-year-old Nathaniel Ewing lying in the parking lot with a single gunshot wound to the abdomen.
After arriving at a local hospital, Ewing was pronounced dead from his injuries.
A few days after the murder, authorities arrested and charged James Arion Smith, Cody Eli Turbeville, Tyrek Ladarius Turner and Armani Ashanti Morgan with first-degree murder.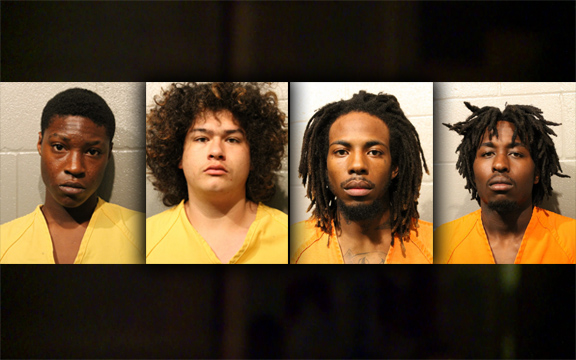 According to an affidavit for a search warrant, it all started when Ewing's friend messaged one of the alleged suspects on Snapchat in order to buy marijuana.
The witness told authorities that he and Ewing were attempting to buy marijuana when one of the alleged suspects pointed a gun at Ewing and demanded money.
The witness claims he was put in a chokehold as Ewing was shot. After that, the witness says that the alleged suspect pointed the gun at him and pulled the trigger, but nothing happened.
The affidavit states that through the investigation, detectives were led to Turner, Morgan, Smith and Turbeville.
During an interview with police, Turner allegedly admitted to being present when the shooting took place, but said one of the juveniles was the one who pulled the trigger.
In another interview, one of the suspects admitted to "wanting to rob the victim and he admitted to subsequently shooting the victim."
According to the Norman Transcript, all four alleged suspects are expected to go before a judge on Wednesday for a preliminary hearing.
During Wednesday's hearing, the prosecution will have to prove that there is probable cause for the case to move forward.