This is an archived article and the information in the article may be outdated. Please look at the time stamp on the story to see when it was last updated.
WASHINGTON – In a move that has been highly criticized, President Obama announced that he has issued a series of executive actions aimed at combating gun violence.
On Tuesday, Obama said he's not trying to take away law-abiding citizens' guns. Instead, he says he is simply trying to improve the process of getting a gun.
"We know we can't stop every act of violence, every act of evil in the world. But maybe we can try and stop one act of evil, one act of violence," Obama said.
Obama said the executive actions were "commonsense" practices.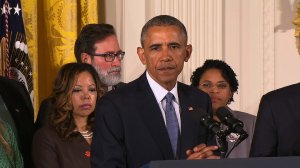 The orders mainly focus on expanding background checks and mental health.
Anyone who is selling guns must get a license to do so and perform background checks on gun buyers. That would include sellers at a gun show and on the Internet.
Also, the orders expand background checks to make them more efficient and update an outdated system.
Obama says they will increase the number of ATF agents so they can enforce gun safety laws that are already on the books.
Mental health records will be submitted to the background check system. Obama also says the order works to make help more available for people suffering from mental illness.
He also called for a boost to gun safety technology to prevent accidental deaths or crimes committed with guns that were stolen from law-abiding citizens.
"If a child can't open a bottle of aspirin, we should make sure they can't pull a trigger on a gun," he said.
On Tuesday, wiping away tears as he spoke of children killed in Connecticut in 2012, Obama unveiled a series of executive actions on guns, including expanding mandatory background checks for some private sales.
"We are not inherently more prone to violence. But we are the only advanced country on Earth that sees this kind of mass violence erupt with this kind of frequency. It doesn't happen in other advanced countries. It's not even close," Obama said at the White House. "Somehow we become numb to it and we start to feel that this is normal. And instead of thinking about how to solve the problem, this has become one of our most polarized, partisan debates, despite the fact that there's a general consensus in America about what needs to be done."
He added, "We do have to feel a sense of urgency about it. In Dr. King's words, we need to feel the fierce urgency of now — because people are dying."
"None of us can do this alone. All of us should be able to work together to find a balance that declares the rest of our rights are also important," he said.
President Obama cited that several citizens' rights were violated when they were senselessly murdered.
President Obama gets emotional while unveiling new gun control measures https://t.co/tdmh7BVVKA https://t.co/dzd4ZLicbW

— CNN (@CNN) January 5, 2016
Obama broke down into tears when he spoke about the deaths of first-graders at Sandy Hook.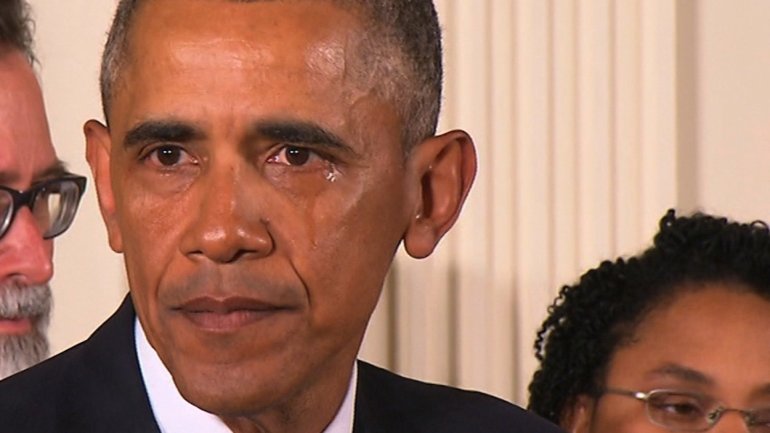 With tears in his eyes, Pres. Obama says on Newtown massacre, "Every time I think about those kids, it gets me mad."https://t.co/vUSH4PjEk4

— NBC Nightly News with Lester Holt (@NBCNightlyNews) January 5, 2016
Response to the president's speech was immediate.
"While we don't yet know the details of the plan, the president is at minimum subverting the legislative branch, and potentially overturning its will. His proposals to restrict gun rights were debated by the United States Senate, and they were rejected. No president should be able to reverse legislative failure by executive fiat, not even incrementally. The American people deserve a president who will respect their constitutional rights- all of them. This is a dangerous level of executive overreach, and the country will not stand for it," said Speaker of the House Paul Ryan in a statement.
Oklahoma Congressman Tom Cole also responded quickly, here is part of his statement. 
"Most Americans understand that guns are tools that must be used responsibly, whether for recreational use or the protection of our families and property. While the president is clearly frustrated by his inability to push through legislation that is consistent with his extreme anti-gun ideology, that is no excuse for bypassing Congress by issuing constitutionally-dubious executive orders. I am confident that his latest actions will be successfully challenged by Congress and litigated in court."
U.S. Senator James Inhofe's reaction: 
"In an effort to show off to his liberal base, Obama announced several executive actions on gun control that would not have prevented any of the mass shootings that he claims inspired this push. For months he has had his staff working night and day to find ways for him to push his gun control agenda unilaterally while we've been waiting years for any leadership or a clear strategy for the Middle East, ISIL and Syria. Ft. Hood, Chattanooga and San Bernardino were terrorist attacks that have happened here, in America, and we need to make sure that we are strengthening our borders, our visa programs and our surveillance of possible terror suspects before we try and curb Americans' 2nd Amendment rights when they need them the most."
U.S. Senator James Lankford released the following statement: 
"All Americans, Republicans and Democrats alike, are broken-hearted by senseless acts of violence, especially towards children. As we grieve for those who are affected by violence, we must evaluate the root causes that lead to violence, like broken families, mental health, drug use and a culture that glorifies violence. Just like the 23 executive actions on guns the President released in 2013, the latest round of executive actions generally misses the root causes of violence in our culture."
Oklahoma Attorney General Scott Pruitt released the following statement:
"As the state's chief legal officer, I am concerned about public safety and strongly support efforts to reduce gun violence in our communities. However, the President's executive actions appear unconnected to the types of tragic shootings he cited as the rationale for his actions. Congress has considered and rejected many of these proposals. Yet, the President is once again trying to bypass Congress to unilaterally impose his political agenda. The President instead should work with Congress on substantive reforms that reduce gun violence while still preserving the Second Amendment rights of law-abiding citizens to protect themselves and their families. We should never sacrifice liberty and the rule of the law in the name of symbolism or expediency."
Graph shows the countries with most guns per capita.

Graph shows how handguns kill 20 times more people than rifles.

Graph shows how active shooter incidents end.

Graph shows the American deaths caused by terrorism vs. gun violence.

Graph shows where you're most at risk for an active shooter.

Graph shows US homicide rate from 1960-2014.

Graph shows firearm background checks by month since 2012.