This is an archived article and the information in the article may be outdated. Please look at the time stamp on the story to see when it was last updated.
NEWCASTLE, Okla. - The state's only true sanctuary for monkeys could be forced to close its doors at the end of January as it struggles to find funding.
Mindy's Memory Primate Sanctuary opened its doors in 1992 and now houses 82 monkeys from at least 13 different species, but its director of development said she's worried about the future of the program.
"There is a great need for a place like ours," said Dr. Jessica Ganas. "And, we're going to fight to the end to make sure we stick around for those animals that need us."
Mindy's Memory houses animals that were once used for research or were pets that had been mistreated or abandoned.
"This is just a place where they can be relaxed - free from experimentation, free from being someone's pet," Ganas said. "They're with their own kind, and we're doing our best to ensure they get quality care."
But, that care could be in jeopardy.
Ganas estimates the sanctuary only has enough funding to stay open through the end of January.
It costs Mindy's Memory $23,000 a month to operate, most of which is spent on six employee salaries and various insurance policies.
There are also medical expenses and food costs to cover.
Much of the operating budget comes from grants or private donations.
But, Ganas said many people simply don't know the facility exists, and most donors aren't regular contributors.
"To run a place like this, you don't want to run hand to mouth," Ganas said. "You want to have that cushion in the bank. We just really never want to get to a point where we say to the monkeys or the staff: 'We've got a week's work of funding.'"
If the money dries up, Ganas said many of the animals would be shopped to other sanctuaries around the country, though space is increasingly limited.
In a worst-case scenario, the primates would have to be euthanized.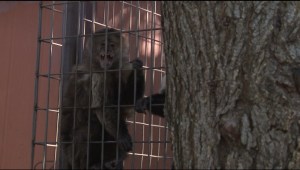 "It would be devastating," she said. "Just thinking about it makes my stomach hurt. The people here care deeply about these animals. They've served mankind, and they deserve better."
The sanctuary is currently seeking a higher level of accreditation to garner more funding.
If you are interested in donating time or money to the sanctuary, click here to find out more.