This is an archived article and the information in the article may be outdated. Please look at the time stamp on the story to see when it was last updated.
UPDATE: 2/27/15 The Jury found Isaiah Tryon guilty of 1st Degree Murder on Friday morning. The penalty phase will begin this afternoon. Prosecutors are seeking the death penalty in this case. Tryon is on trial for killing 19-Tia Bloomer in 2012. Read more about the case below.
OKLAHOMA COUNTY, Okla.  — The death penalty trial of 25-year-old Isaiah Tryon is underway. Tryon is accused of stabbing the mother of his child to death.
The victim, Tia Bloomer, was his girlfriend; she was only 19. Prosecutors are seeking the death penalty against Tryon.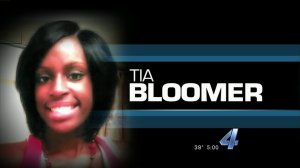 The murder happened on the east side of the downtown bus station on 5th Street in 2012. The brutal killing was caught on surveillance video, and will be key evidence in the trial.
The video shows Tryon approach Bloomer. She can be seen trying to tell Tryon to leave her alone, but the suspect proceeds to repeatedly stab the woman.
Bloomer died before she got to the hospital.
The murder was a frightening scene in a very public place.
But Bloomer was just trying to get away from a violent relationship. Family members say she was on her way to the courthouse that morning to get a protective order against Tryon, who plead guilty the year before to assaulting her.
Prosecutors say he also fired a gun at Bloomer while she was holding their child.
Tuesday, Tryon's attorney spent nearly an hour asking potential jurors how much weight they'd give a psychologist's testimony, and if they believed in the death penalty.
Testimony is expected to begin Wednesday.