This is an archived article and the information in the article may be outdated. Please look at the time stamp on the story to see when it was last updated.
SPRINGTOWN, Texas – A disturbing case of animal cruelty has shocked a small town in Texas.
Someone shot a mother dog in the head, leaving her puppies with their mom's body on the side of the road.
The week old puppies were still trying to suckle milk from the mother's body when they were spotted early Wednesday morning.
The cage was sitting on Raley Rd. just off Veal Station Rd. in Springtown, Texas.
Dog rescuer Jennifer Aikman took them in, cleaned them off, and amazingly, got them fixed up with two other nursing dogs that accepted them in their litters.
Aikman shudders at the coldness of the person who shot the mother dog, a brown Shepherd/Heeler mix.
Parker County Sheriff Larry Fowler says there's not a lot of evidence. Just the cage, lined with cardboard used for school displays, and an empty water bowl made from a pot.
The pups eyes are just opening.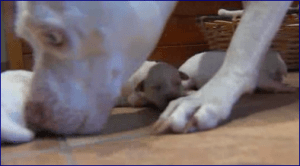 Some still need bottle feeding.
Jennifer Aikman thinks they'll make it. She tries not to think about the rest.
After the dogs are weaned, they'll need caring families to adopt them.