This is an archived article and the information in the article may be outdated. Please look at the time stamp on the story to see when it was last updated.
While heavy and constant rain has caused tremendous damage in parts of the state, it has also changed Oklahoma's position in the drought.
Earlier this year, several lakes were reaching dangerously low water levels, which were expected to have a tremendous impact on the surrounding communities.
However, that changed for most of the state after the wettest month in Oklahoma history.
The statewide average finished at 14.4 inches, according to the Oklahoma Mesonet, which is over 9.5 inches above normal.
Many individual locations shattered marks for their wettest month on record.
The Norman Mesonet site recorded a total of 23.4 inches, while Oklahoma City's site claimed 19.48 inches of rain.
In all, 22 Mesonet stations recorded at least 20 inches of rain for the month of may.
According to the Oklahoma Water Resources Board, dozens of lakes' water levels are now over the normal pool elevation.
There are still a few bodies of water that are below normal capacity.
Most notably, Canton Lake and Foss Lake are both nine feet below normal.
Foss Lake is about 60 percent full, but Canton Lake is only 30 percent full.
Click here to see the reservoir levels across the state.
In terms of the drought, the U.S. Drought Monitor says conditions have changed dramatically.
Last year, 94 percent of the state was at least in the abnormally dry category.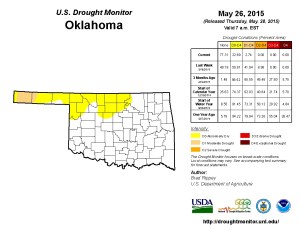 In all, 55 percent of the state was experiencing at least 'extreme drought' levels.
After the rainfall last month, 22 percent of the state is still listed as abnormally dry, with only two percent experiencing a moderate drought.
Fortunately, 77 percent of the state is not experiencing any type of drought at this time.
Short-term forecasts call for a relatively dry first week of June. The National Weather Service's Climate Predication Center believes far western and southern Oklahoma will see above normal precipitation for June.
The entire state is also expected to see above normal precipitation from June to August.
Also, the center believes temperatures will be below normal and says the drought should not return this month.
See a mistake? Report a typo here.