This is an archived article and the information in the article may be outdated. Please look at the time stamp on the story to see when it was last updated.
4Warn Storm Team meteorologist and storm chaser Reed Timmer talked with Linda Cavanaugh about Friday's tornadoes.
Three veteran storm chasers were killed in the El Reno tornado.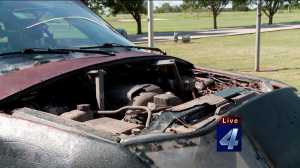 The storms took the hood off Reed's Dominator, which he said is a first.
Emily Sutton and storm chaser Keven Josefy lost their back windshield to the storms as well.
Linda asks Reed what was so different about this tornado that even professionals were killed.