This is an archived article and the information in the article may be outdated. Please look at the time stamp on the story to see when it was last updated.
DALLAS, Tx. – The remains of an Oklahoma soldier have finally returned home after nearly seven decades.
The remains of a Choctaw veteran, Pvt. Charles Gibson Kaniatobe, returned home November 15, after being deemed unrecoverable for 68 years.
Kaniatobe was finally laid to rest back home in Idabel November 17 and was buried with full military honors.
The Choctaw Nation of Oklahoma provided the Kaniatobe family transportation to DFW International Airport, where his casket was welcomed by the U.S. Army Honor Guard, a USO Honors Team, the Choctaw Nation Honor Guard, relatives, and representatives of the Choctaw Nation.
Kaniatobe's sisters, Clara and Ann, his niece and nephew Kimberly and Rick Kaniatobe, as well as other family members from Oklahoma and the Dallas area were in attendance. One even traveled all the way from Arizona to attend the event.
"The plane-side honors were emotional for everyone involved. It is amazing that thanks to scientific advances, Kaniatobe is finally home," said Choctaw Nation Assistant Chief Jack Austin Jr.
Kaniatobe was born Jan. 31, 1929, to Walter Kaniatobe and Wilcey Shaw Kaniatobe. He was the eldest of 10 children and a resident of Idabel, Oklahoma.
As a Korean War veteran, he was a member of the Able Company, 1st Battalion, 21st Infantry Regiment, 24th Infantry Division.
The 21-year-old was killed in action July 10, 1950, as a result of heavy fighting with the North Korean People's Army at Chonui, Republic of Korea. The intense battle left hundreds of U.S. troops dead or missing.
Due to the large number of U.S. casualties, grave registration troops set up makeshift graves on-site as a temporary solution.
During the battle north of Taejon, a temporary cemetery, American Cemetery No.1, was established. An unidentified soldier known as Unknown American X-173 was interred there.
Throughout the remainder of the war, the United Nations Command requested a list of American and allied service members held captive by the Chinese People's Volunteer Forces and the Korean People's Army. Kaniatobe was never mentioned on any of the lists.
The American Graves Registration team continued the search for American remains. From May 22 through June 10, 1952, soldiers of the 392nd Quartermaster Graves Registration Company conducted a field search to locate Kaniatobe in the area between Chonui and Choch'iwon. During the search eight sets of remains were recovered, none of which could be associated with Kaniatobe.
In the spring of 1953, all sides agreed to a limited exchange of prisoners of war. During what is known as Operation Little Switch, select sick, wounded and injured POWs were released. From Aug. 5 to Sept. 5, 1953, all remaining POWs were exchanged during Operation Big Exchange. All returning POWs from both operations were questioned regarding other POWs, but none could provide any information about Kaniatobe.
Due to having no information or leads to his whereabouts, Kaniatobe was declared dead Dec. 31, 1953, by the U.S. Army.
Kaniatobe was posthumously promoted to the rank of Private (Pvt-2), and his family was notified of his actions. He was awarded the Purple Heart, the Combat Infantryman Badge, the Korean Service Medal, the United Nations Service Medal, the National Defense Service Medal, the Korean Presidential Unit Citation and the Republic of Korea War Service Medal.
The American Graves Registration Services hoped to recover the remains of all American and allied troops from the demilitarized zone after the war. It wasn't until 1954 that Operation Glory would take place. The operation lasted from Sept. 1 until Oct. 30, 1954.
The remains of over 2,900 soldiers were recovered. The U.S. Army's Central Identification Unit processed the remains for identification in Kokura, Japan. During this process, 848 sets of American remains were still unidentifiable.
These soldiers were interred as "unknowns" in the National Cemetery of the Pacific, known as the Punchbowl, in Honolulu, Hawaii.
Due to lack of information and having no leads to the location of his remains, the U.S. Army declared Charles Kaniatobe's remains unrecoverable Jan. 16, 1956.
Kaniatobe remained at the Punchbowl for over 60 years, until the Defense POW/MIA Accounting Agency requested the disinterment of 10 unknown soldiers including Unknown X-173.
The remains were disinterred in October 2017.
Based on recovery location, and historical information involving Kaniatobe, the Indo-Pacific Directorate believed there was a high possibility Unknown X-173 was Kaniatobe.
Thanks to scientific advancements and mitochondrial DNA sequencing, researchers were able to identify Kaniatobe by comparing DNA samples from his remains to those of his living siblings, Clara, Ann and James.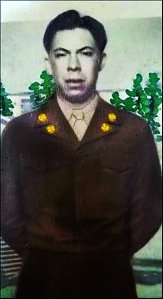 "So many Choctaws like Pvt. Kaniatobe have given their lives in service to their country. It is a blessing that Kaniatobe is finally home after all these years," said Chief Gary Batton.