This is an archived article and the information in the article may be outdated. Please look at the time stamp on the story to see when it was last updated.
ENID, Okla. – The National Transportation Safety Board says a Texas pilot who was killed when the crop-dusting plane he was flying crashed in northwestern Oklahoma was familiar with the region.
The Enid News & Eagle reports that a preliminary report by the NTSB says the pilot, 52-year-old Rodney Sherry of Olton, Texas, was in good spirits and accustomed to the Enid-area field where he was spraying fertilizer.
Sherry crashed June 19. The Oklahoma Highway Patrol says he was the only person on board when the aircraft crashed into a wheat field just northwest of Enid, 75 miles northwest of Oklahoma City.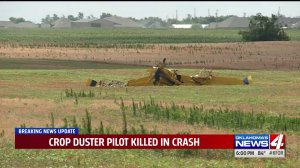 Officials say the single-engine, fixed-wing aircraft apparently crashed after striking a guideline wire attached to an approximately 400-foot-tall communications tower.
This was the second fatal crop duster crash within the past month.
On May 30, Andy Deterding was killed after a crop duster he was flying crashed into a guy line.