This is an archived article and the information in the article may be outdated. Please look at the time stamp on the story to see when it was last updated.
OKLAHOMA CITY – A wild chase that spanned more than 17 miles ended with one man in jail.
On Tuesday, authorities arrested 23-year-old Trevor Wilson after he allegedly robbed the First Bethany Bank, near S.W. 30th St. and Meridian.
Police say around 11 a.m. Tuesday morning, a clerk inside the First Bethany Bank triggered the silent alarm.
The clerk later told police a man came inside the bank with a gun and left with bag full of money.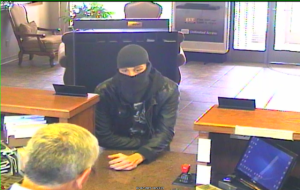 The clerk was able to describe the vehicle the man left in as a white Dodge pickup with a black stripe down the side.  That tip helped the police helicopter, Air One, spot the truck.
When police approached the vehicle, the chase began.
"Meridian is on the other side of town, so it was a pretty long chase," said Walter Kendricks.
Kendricks and his neighbors watched it all unfold.
"I was just standing out the back there and I saw a helicopter come up. And all of a sudden, I saw police cars come out from up front. He came in from this way, so we didn't see him come past the house," said Kendricks.
Wilson was eventually taken into custody near S.E. 59th and Post Rd.
"I was outside talking to a friend on the phone and I heard a helicopter come around and I looked up and saw it come around again. It said police and I thought, 'What's going on?' So I walked out here," said Heather Funk.
Just a few feet away from Kendrick's front door is where Oklahoma City police officers arrested their man and found the money. They also recovered the gun they say he used to rob the bank.
"Anytime they catch the bad guys, that`s a good thing," said Kendricks.
Wilson will be booked into the Oklahoma County Jail on eluding and robbery-related charges.
See a mistake? Report a typo here.