This is an archived article and the information in the article may be outdated. Please look at the time stamp on the story to see when it was last updated.
UPDATED 9/29/2014 6:50 P.M.
MOORE, Okla. – Cleveland County District Attorney Greg Mashburn says his office will be ready to file official charges on Alton Nolen Tuesday afternoon.
MOORE, Okla. – Police are charging a man accused of beheading a woman at Vaughan Foods in Moore, Okla.
The Moore Police Department says charges filed against Alton Alexander Nolen will include first-degree murder and assault with a deadly weapon.
Law enforcement will officially file the paperwork in the District Attorney's office Monday.
Alton Nolen is also accused of stabbing another woman before being shot himself by an Oklahoma County Sheriff's Office reserve deputy, Mark Vaughan, who is also the company CEO.
Nolen, a recent convert to Islam, allegedly attacked a woman Thursday at a Vaughan Foods processing plant, soon after he learned he'd lost his job there.
Police said he walked into the front office and attacked one of the first people he encountered, Colleen Hufford, 54.
He severed her head with a knife and then attacked 43-year-old Traci Johnson.
Johnson has been released from the hospital after being treated for numerous wounds.
Nolen, 30, was interviewed by investigators on Friday. Police have not revealed what he said.
The FBI said  there are no indications linking Thursday's attack to terrorism.
In the Middle East, ISIS, which calls itself the Islamic State, has drawn world attention with videotaped beheadings.
Click here to read more on the FBI's findings.
Vaughan Foods released the following statement on Monday:
"Employees are returning to work at Vaughan Foods. Each shift begins with group gatherings. These conversations allow us to come together as a team and draw strength from each other. Company leadership and crisis counselors are taking this opportunity to reinforce the importance of each employee's well-being.
The loss of our Vaughan Foods family member remains very much in our hearts and minds. We are encouraged by the strength and resilience we see in our team. Employees continue to make a conscious effort to process last week's tragedy by seeking out our trained crisis counselors, who remain available at any time."
MOORE, Okla. – Officials with the Moore Police Department say the FBI is now involved in the investigation related to a brutal attack of workers at a food distribution plant.
Sgt. Jeremy Lewis says the alleged suspect, 30-year-old Alton Nolen had just been fired when he drove to the front of the business, hit a vehicle and walked inside.
He walked into the front office area where he met 54-year-old Colleen Hufford and began attacking her with a knife.
Sgt. Lewis confirms the type of knife used in the attack is the same kind used at the plant.
Lewis confirms that Hufford was stabbed several times and that Nolen "severed her head."
At that point, Lewis claims Nolen met 43-year-old Traci Johnson and began attacking her with the same knife.
Officials say at that point, Mark Vaughan, an Oklahoma County reserve deputy and a former owner of the business, shot him as he was actively stabbing Johnson.
"He's, obviously, a hero in this situation," Sgt. Lewis said, referring to Vaughan. "It could have gotten a lot worse."
Authorities say it appears Nolen was attacking employees at random.
The Medical Examiner confirmed Hufford's cause of death on Friday.
"Ms. Hufford's cause of death is decapitation due to multiple sharp force trauma to neck.  Manner of death is homicide," said Amy Elliott with the Medical Examiner's Office.
Johnson was released from the hospital on Saturday.
Family members say she is "sore" but is doing well.
The FBI is now looking into Nolen's background after his former co-workers said he tried to convert them to Islam after converting to the religion himself.
Lewis says the FBI is working in conjunction with the Moore Police Department, especially when it comes to the religious aspect of the case.
At this time, it is not known if the suspect's beliefs played a role in the attack.
Adam Soltani, the executive director of the Council on American Islamic Relations in Oklahoma, says Nolen's actions are condemned by the Muslim community and his faith should not be connected to this horrific crime.
"It's really unfortunate that there's a lot of attention on Muslims these days for actions of people who are either part of extremist groups or who have extreme ideas. However, Islam is clear on what it stands for. Islam stands for peace, Islam stands for justice, Islam stands for love for humanity, compassion and mercy. What this gentleman did in Moore, which is inhumane and barbaric, is definitely not a representation of what our faith teaches and we hope and pray that justice will be brought against the perpetrator soon, so that the victims and their families can find some sort of solace in that justice," he said.
Soltani added that what Nolen did is the "antithesis of every teaching of the Islamic faith."
Vaughan Foods released the following statement about the attack:
"On behalf of everyone at Vaughan Foods, we are shocked and deeply saddened by the events of today. Our thoughts and prayers go out to the families and friends of the team member we lost and all those affected. Our focus is on the safety and well-being of our employees. We will provide counseling and support for our team members and support each other through this difficult time. We are working with authorities on this active investigation and ask that you direct your questions to local law enforcement."
Danielle Katcher, spokesperson from Vaughan Food, added to the company's statement saying:
"Today, we mourn the loss of an extraordinary member of the Vaughan Foods family, and continue to support both the physical and emotional healing process of all those impacted by this week's violence.
Our focus remains on the safety and healing of our employees.  Since Friday morning, trained counselors have been available to all employees at our Moore facility.  This confidential counseling service is providing individualized assistance to those struggling to make sense of this painful experience.
We will continue to work through this extremely difficult time together, as a team, and are grateful for our strong network of family, friends and co-workers.  We would like to thank law enforcement for their swift response, and the community for the continued outpouring of support and condolences."
The Moore Police Department released the 911 tapes associated with the attack.
911 Caller: "Shut the door, shut the door!"
Dispatcher: "Moore 911, where is your emergency?"
911 Caller: "Vaughan Foods, Moore, Oklahoma, 216 N.E. 12th St. We have.."
Dispatcher: "What's going on there?"
911 Caller: "We have someone attacking someone in the building. I was just informed. I'm in the.."
Dispatcher: "Okay, where are they at?"
911 Caller: "Inside, are they in the office? They're in the office, front office of the building. Yeah, we can hear a lot of screaming. We're actually in a different office but someone just came in here yelling."
Dispatcher: "315. Okay, do you know where they're at in the building?"
911 Caller: "In the front of the building, there's our main entrance."
Dispatcher: "Okay, do you know where he is at in the plant?"
911 Caller: "We know that he's loose. He has stabbed someone."
Dispatcher: "Yeah, we've got medical en route for them.
911 Caller: "Okay."
Dispatcher: "Is anybody with him or do you know?"
911 Caller: "Hold on, my (garbled.)
Dispatcher: "Respond on lacerations. Vaughan Foods, 216, go ahead sir, N.E. 12th."
911 Caller: "I'm going to put you on speakerphone for one second, okay?"
Dispatcher: "Standby on a map. Page 1608, time out."
911 Caller:  "Okay, so we don't know where the person went and he went through our front office, went through the shipping office and stabbed a woman in our customer service department."
Dispatcher: "Okay, did he know her? Do you know, is that who he was arguing with? Is she an employee?"
911 Caller: "She is an employee, yeah."
Dispatcher: "Okay, thank you."
911 Caller: "Lock that door."
Dispatcher: "Yeah, go ahead lock everybody in there if you can."
911 Caller: "Yeah, we're trying. Okay, can you hear this in the background?"
(yelling)
Dispatcher: "Is that him? He's back?"
911 Caller: "Yeah, it sounds like he's running around out here."
(loud bangs)
911 Caller: "And that, that's a gun shot."
Dispatcher: "Got a gun shot. Units responding to Vaughan Foods, be advised we do now have gunshots. Okay, do you know where he's at now?"
911 Caller: "He's in the hallway, outside of the center of the building."
Dispatcher: "Maybe in the hallway in the center of the building. And how many more shots have you heard?"
911 Caller: "We've heard three."
Dispatcher: "Three shots?"
911 Caller: "Now I'm hearing somebody yelling in the hallway, stay down."
Dispatcher: "There's another subject yelling in the hallway. Units be advised that there's another subject yelling in the hallway. Still same amount of injuries."
911 Caller: "Stay down, stay down."
UPDATE 9/26 2:48 p.m.: Sheriff John Whetsel, with the Oklahoma County Sheriff's Office,  is speaking out about the deadly attack at a food distribution facility in Moore on Thursday.
On Friday afternoon, Whetsel released the following statement: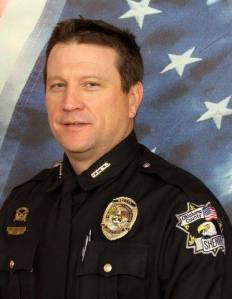 "Today, my thoughts and prayers are with family and friends of the innocent victim who was murdered and the second innocent victim who was injured in violent knife attacks at Vaughan Foods in Moore, Oklahoma on September 25, 2014. 
These were heinous criminal acts that were ended by the quick response of Oklahoma County Reserve Deputy Sheriff Mark Vaughan. I am extremely proud of the actions of Deputy Vaughan and I am convinced those actions saved the lives of several other employees. Mr. Vaughan, who serves as CEO of Vaughan Foods, was at work and when he was alerted that a man was attacking employees with a knife, Mark didn't hesitate. He quickly responded.
Mark put an end to the threat by shooting the suspect and saving the life of a second victim who was being actively attacked by the suspect. There is every reason to believe that the lives of untold others were saved who would have been targeted by the suspect if it hadn't been for Deputy Vaughan's actions.
Mark Vaughan has been with the Oklahoma County Sheriff's Office since June 2010. During that time he has completed the 10-month Reserve Deputy Basic Academy as well as other extensive law enforcement training. Mark is currently assigned to the Patrol Division, is a member of the FAST Team (Fast Action Support Team) and is a highly trained member of the Tactical Team.
Reserve Deputies serve a very important role in the ability of the Oklahoma County Sheriff's Office to provide law enforcement services and protection to the citizens of Oklahoma County. Reserve Deputies are citizens who attended rigorous law enforcement training and volunteer their time to serve.
Mark Vaughan is an example of just how significant these men and women are to our citizens. Yesterday lives were saved and a criminal threat ended by the quick and unselfish response of Mark Vaughan.
Only one word can express my feelings of the actions of Reserve Deputy Mark Vaughan. Without regard to himself or his safety, yesterday Mark Vaughan became a "HERO" while doing the job he was sworn to do- protecting others."
In addition to Whetsel's statement, the Federal Bureau of Investigation's Oklahoma City Division released its own statement on the incident.
"The FBI will continue to assist the Moore Police Department and will provide whatever resources are necessary in this investigation. The motive is undetermined at this time and until all the facts have been gathered, we are not in a position to comment further. There is no information currently in our possession to indicate there is any additional threat to the citizens of Oklahoma related to this incident."
Courtesy: Department of Corrections

Courtesy: Department of Corrections

Courtesy: Department of Corrections

Courtesy: Department of Corrections

Courtesy: Logan County Sheriff's Office

File photo of Mark Vaughan at Vaughan Foods. Courtesy: Moore Daily

File photo of Mark Vaughan at Vaughan Foods. Courtesy: Moore Daily
[protected-iframe id="ec0aec34ba5de47d39e6d48084b5cf45-29519643-31344442″ info="https://www.google.com/maps/embed?pb=!1m18!1m12!1m3!1d3254.335511091462!2d-97.48362800000002!3d35.347319!2m3!1f0!2f0!3f0!3m2!1i1024!2i768!4f13.1!3m3!1m2!1s0x87b214d8ecf8f7eb%3A0x1c417ac4f02ab61c!2sVaughan+Foods+South+Plant!5e0!3m2!1sen!2sus!4v1411682051756″ width="600″ height="450″ frameborder="0″ style="border:0″]