This is an archived article and the information in the article may be outdated. Please look at the time stamp on the story to see when it was last updated.
OKLAHOMA CITY – Oklahoma City Zoo officials issued a "code red" Thursday afternoon after a tiger escaped its caged area.
Around 1:38 p.m. on Thursday, zoo officials say a 4-year-old female Sumatran tiger named Lola got out of her enclosure, but never left the Cat Exhibit. They say she was between two pieces of wire mesh that separated her from a clouded leopard.
Zoo officials say the leopard got territorial, and Lola retaliated. But thanks to the wire mesh enclosure, a cat fight crisis was averted.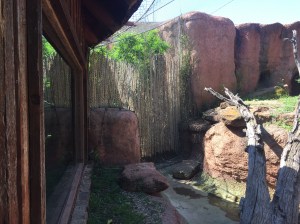 The zoo reportedly locked down the perimeter while officials worked to contain the tiger and issued a "code red."
Vet staff was able to tranquilize the female tiger and take her back for recovery.
At no time were any guests or staff in danger, according to the Oklahoma City Zoo.
Officials say the tiger was not injured.
The veterinary staff is monitoring her condition and says she "is recovering well from the immobilization."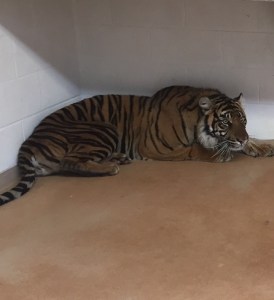 Zoo officials found a 14 to 16 inch diameter hole in Lola's habitat.
They say they are now planning on building a solid barrier between Lola's habitat and the clouded leopard's habitat.
The wire mesh is being reinforced in this area for added precautions.
The tigers and clouded leopard will remain off of public view while their habitats are being assessed.
When a tiger gets stuck in the fence at the OKC zoo 😭 pic.twitter.com/OD4dplOPaU

— Devin Dobson (@devindobson) April 30, 2015
"there is a code RED tiger: please close all perimeter gates" – OKC zoo

— Devin Dobson (@devindobson) April 30, 2015
They have us contained at the OKC zoo in a tiny gift shop…this is intense

— Devin Dobson (@devindobson) April 30, 2015
"The animal is contained and everything is safe. This is just another sad day at be zoo" – OKC zoo stafd

— Devin Dobson (@devindobson) April 30, 2015