This is an archived article and the information in the article may be outdated. Please look at the time stamp on the story to see when it was last updated.
NORMAN, Okla. – An adorable miniature donkey who gained national fame because of the kindness of an Oklahoma police officer is looking for a new home.
Last year, Robin Strader said she was on her way to work when she saw a miniature donkey roaming along 120th Avenue N.E.
"If I hadn't gotten him off the road, yeah, he could have definitely been killed," Strader said.
As Strader was thinking of what to do next with the little guy, Norman Police Officer Kyle Canaan pulled up and offered to help.
"She said, 'Well, no, it won't fit in my car,'" Canaan said. "And, I was like, 'Eh, it may fit in my car.'"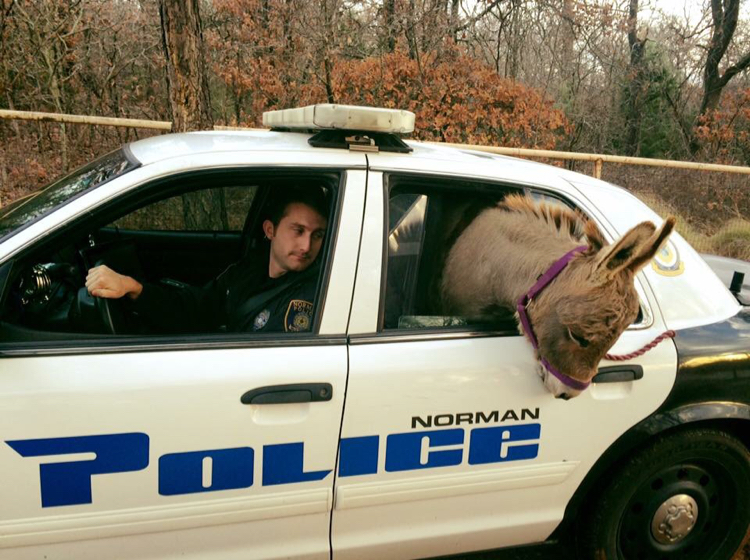 Strader held the donkey on her property until his rightful owner claimed him  a day later.
Dr. Matt Spaulding says he knew something was wrong when his donkey, Cruz, wasn't in plain sight when he got home.
Fortunately, a photo of Officer Canaan and the donkey began making the rounds on social media, so he knew exactly where to look.
"I don't know how they got him in there," Spaulding said. "That's why they say they called him Squishy. They squished him up in there."
Strader says that although 'Squishy' went back to rightful owner, she still has a soft spot for the little guy.
In fact, she tells NewsChannel 4 that she still likes to drive by and catch sight of Squishy.
Spaulding recently told Strader that he was planning to sell 'Squishy' and offered her the chance to buy him first.
Now, she is trying to raise $500 to purchase the donkey.
So far, she has raised $50 through a GoFundMe account, with one of the first donations coming from Officer Canaan.