This is an archived article and the information in the article may be outdated. Please look at the time stamp on the story to see when it was last updated.
OKLAHOMA CITY - Many who live in the Plaza District call Gatewood Elementary the heartbeat of the community.
"It really is at the heart of our neighborhood," Parent Tricia Graham said.
That is why parents are not the only ones concerned about the possibility of the school closing.
In a letter addressed to the Oklahoma City School Board, the Plaza District Association said it is against closing Gatewood Elementary.
At the end of the letter board members said, "Losing this elementary school will have a direct negative impact on the progress that has been made in building this community over the past decade"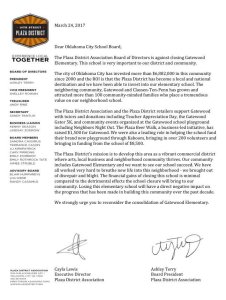 "If we lose our neighborhood school it's going to affect everything. It's going to affect property value. Just the quality of life that people have," Lindsay Zodrow, a Plaza District Association board member, said.
Appraiser Peter Fulmer said he has been wondering if neighborhood school closures would have a big impact on communities like the Plaza District.
"I think it's kind of a wait and see to see how that community handles the loss of their school. If in fact they lose it, but I do think there is a good opportunity for values to be hurt in that area if they lose their school," Fulmer said.
Those who live near the neighborhood schools do not want to "wait and see" and are hoping Oklahoma City Public Schools will come up with another solution.
"If we closed a school, and in this neighborhood, and our property values decreased, that's going to decrease the money that's going into the district. So I just don't see how that's really a responsible thing to do," Graham said.
On its website, the district addresses frequently asked questions.
The following answer is the response to "what will OKCPS do with the empty buildings?"
"We will be convening a repurposing committee, which will include community members, to help us make decisions about the best use for our facilities moving forward. We anticipate making a recommendation for each closing facility before the end of the school year, June 30. The facilities that will be reviewed include all vacant properties, including buildings that have been vacant for some time and 900 N Klein (the current central office building), which we plan to vacate by July."