This is an archived article and the information in the article may be outdated. Please look at the time stamp on the story to see when it was last updated.
OKEMAH, Okla. – The Oklahoma State Bureau of Investigation is offering up to a $5,000 reward for information on a 2012 homicide in Okemah.
28-year-old Floyd Osborne Jr. was found inside a home with several stab wounds on October 14, 2012.
Osborne was transported to the hospital where he later died.
OSBI agents are now asking the public for help.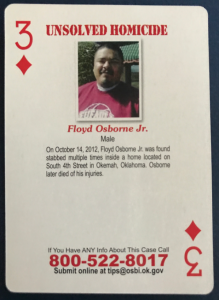 If you have any information about Osborne's murder, call the OSBI hotline at 1-800-522-8017 or email tips@osbi.ok.gov.