This is an archived article and the information in the article may be outdated. Please look at the time stamp on the story to see when it was last updated.
Sunday was a golden day for some of the biggest names in Olympic sports, with runners and gymnasts harvesting those precious medals at the Rio 2016 Games.
And in the event of the evening, the fastest man in history, Usain Bolt, stayed right there in front, taking the gold medal in the men's 100 meters in 9.81 seconds.
It was also the chance for the world's best gymnasts — both men and women — to show their incredible specialist skills on the apparatus.
Having waved farewell to the Olympic swimming events until Tokyo in four years' time, Sunday also was the last day of events in shooting — and the tennis finals.
There was plenty of action across 12 sports with 22 gold medals awarded Sunday. Here's a few highlights:
Athletics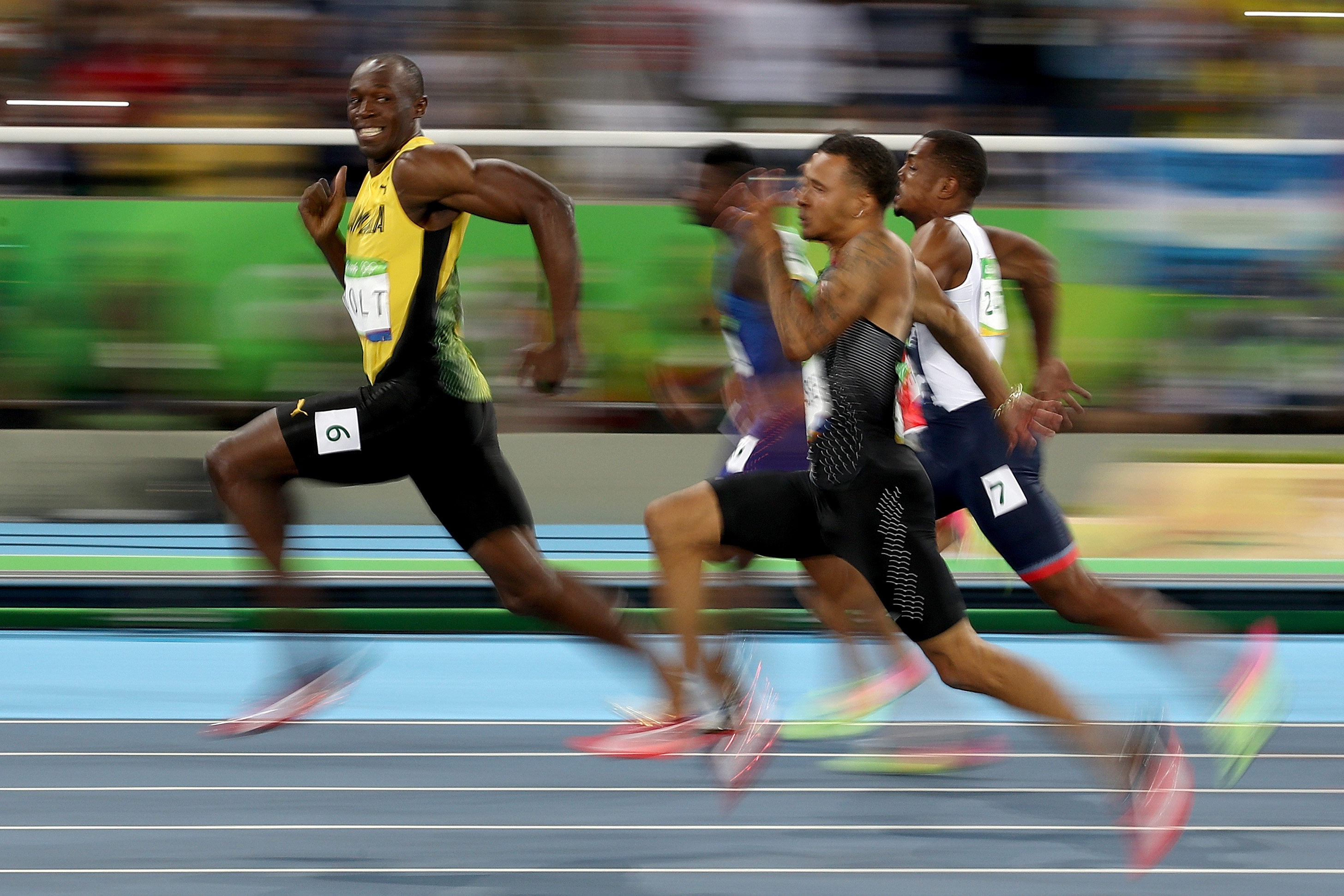 When Usain Bolt hit the 100-meter finish line Sunday night — ahead of American Justin Gatlin who was .08 of a second back for silver and Canadian Andre De Grasse in third — Bolt took another first beyond the single event as the first athlete to win gold in the 100 at three Olympics.
LIGHTING STRIKES THREE TIMES! @usainbolt is the 1st athlete to win 100m in #athletics at 3 #Olympics! Time = 9.81 pic.twitter.com/dTxv9LE1Z9

— Olympics (@Olympics) August 15, 2016
For 70 meters or so, it looked like Gatlin had a winning chance, but then the 6-foot-5 Bolt hit full stride and zipped by his rival. Once Bolt saw his lead was untouchable, he eased over the finish, somewhat like he did in Beijing eight years ago, and pounded his chest twice before raising a finger to show who was No. 1. Note to Bolt: we already knew that.
It was Bolt's first victory in his triple-triple attempt, with the 200-meters and the 4×100 meter relay still ahead.
Bolt's run upstaged the greatest 400-meter run of all-time as Wayde van Niekerk clocked an incredible 43.03, a world record despite running in the farthest outside lane.
The South African smashed the world record held by track and field legend Michael Johnson for nearly 17 years to take the gold ahead of defending champion Kirani James.
Congratulations @WaydeDreamer to you and your coach! Well done and deserved. Olympic Gold and World record. I know the feeling! #Rio2016

— Michael Johnson (@MJGold) August 15, 2016
And Johnson was quick to congratulate Van Niekerk, tweeting: "Congratulations @WaydeDreamer to you and your coach! Well done and deserved. Olympic Gold and World record. I know the feeling!"
The 24-year-old's dominant run was all the more impressive considering he ran in lane eight, with James and American LaShawn Merritt, who took the bronze medal, out of his line of sight for the entire race.
Wayde van Niekerk breaks Michael Johnson's 17-year-old 400m world record! https://t.co/Wm35wedjQC #Rio2016 pic.twitter.com/TbbBo2fCzV

— NBC Sports (@NBCSports) August 15, 2016
Great Britain's great day
The only time the team from Great Britain has won more medals on one day other than Sunday was when it was the host for the Olympics.
"God Save the Queen" was played five times — twice at gymnastics, once each at tennis, track cycling and golf.
The gymnastics golds were especially special with Max Whitlock winning where Japanese legend Koehi Uchimura was expected to be the star.
"This has outdone all of my expectations and I am proud to say I have made history," he said.
Whitlock won the floor and pommel horse events, while teammate Louis Smith took silver in the second event.
I CANT BELIEVE IM A DOUBLE OLYMPIC CHAMPION 🏅🏅 pic.twitter.com/jmrXVs5tgb

— Max Whitlock MBE (@maxwhitlock1) August 15, 2016
The nation also celebrated wins from tennis superstar Andy Murray and world No. 12 in golf Justin Rose.
Track cyclist Jason Kenny won his fifth career gold medal with a victory over teammate Callum Skinner in the men's sprint event.
Gold (band)?
For China's He Zi, being on the medals podium after the 3-meter springboard diving final was expected. What wasn't expected for the silver medalist was for her boyfriend of six years to bring her something potentially just as important.
His love and a desire to spend the rest of his life with her.
Boyfriend Qin Kai, a fellow Olympic diver, proposed, opening a ring box as he put a hand over her face. Right there in front of everyone.
Good thing for him she said yes.
"(Qin) said a lot of things there at the podium," He said. "He made a lot of promises, but the thing that has touched me the most is that I think this is the guy I can trust for the rest of my life."
Win #silver ✔️
Get engaged ✔️#CHN's He Zi had a pretty great day! #RIo2016 pic.twitter.com/99j34Ol1op

— #TokyoOlympics (@NBCOlympics) August 14, 2016
Making Sunday super
American Simone Biles added to her medal case Sunday, leaping to her third gold in the Rio Olympics and conducting a clinic in the vault discipline.
The 19-year-old all-around world champion now has her sights set on her final two competitions: balance beam on Monday and floor exercise on Tuesday.
Winning gold in the vault, she said, was especially meaningful considering how close she came in recent world championships.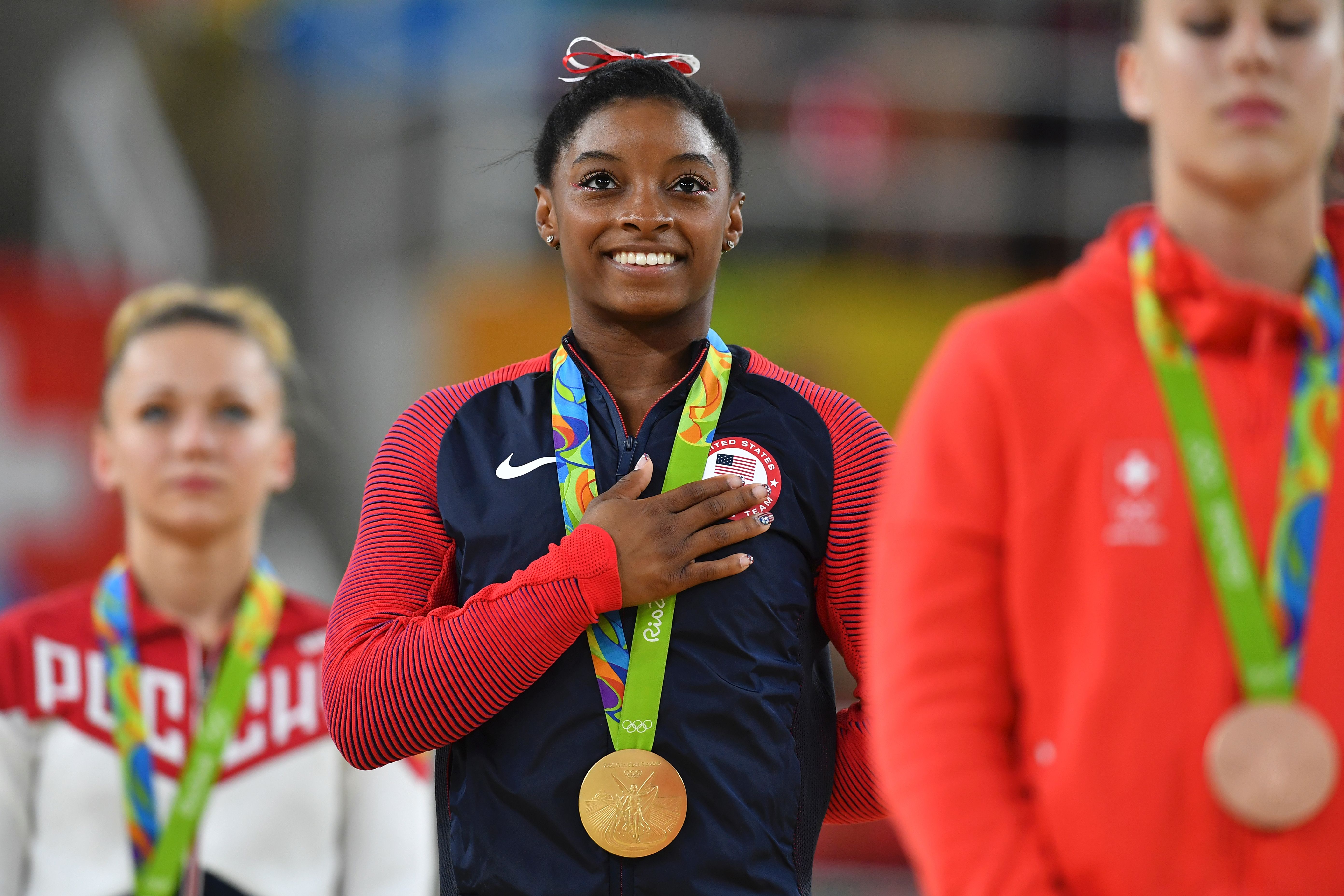 "I feel very excited, because having gone to worlds and having two silvers and a bronze, it means a lot to me. It's something I wanted so badly, so I just tried to keep a good mind going into vault," she said.
wow I did it – Olympic Vault Champion 🇺🇸 so much pride in representing the united states ❤️ pic.twitter.com/srKSNnRWED

— Simone Biles (@Simone_Biles) August 14, 2016
As congratulation poured in, one Twitter voice stood out, as it came from someone who's been there herself. "Congratulations Simone more to come …" tweeted Nadia Comaneci.
congratulations Simone👍❤️. More to come…

— Nadia Comaneci (@nadiacomaneci10) August 14, 2016
Gold medal roundup
Athletics, Men's 100 meters — Usain Bolt, Jamaica
Athletics, Men's 400 meters — Wayde van Niekerk , South Africa
Athletics, Women's Marathon — Jemima Jelagat Sumgong, Kenya
Athletics, Women's Triple Jump — Caterine Ibargüen, Colombia
Diving, Women's 3-meter Springboard — Shi Tingmao, China
Fencing, Men's Team Epee — France
Golf, Men's — Justin Rose, Great Britain
Gymnastics, Men's Floor Exercise — Max Whitlock, Great Britain
Gymnastics, Men's Pommel Horse — Max Whitlock, Great Britain
Gymnastics, Women's Uneven Bars — Aliya Mustafina, United States
Gymnastics, Women's Vault –Simone Biles, United States
Boxing, Men's Light Flyweight — Hasanboy Dusmatov, Uzbekistan
Shooting, Men's 50-meter Rifle, Three Positions — Niccolo Campriani, Italy
Sailing, Men's RS X — Dorian van Rijsselberghe, the Netherlands
Sailing, Women's RS X — Charline Picon, France
Tennis, Men's Singles– Andy Murray, Great Britain
Tennis, Mixed Doubles — United States
Tennis, Women's Doubles — Russia
Track Cycling, Men's Sprint Finals — Jason Kenny, Great Britain
Weightlifting, Women's 75 kilograms –Meng Suping, China
Wrestling, Greco-Roman 59 kilograms — Ismael Borrero Molina , Cuba
Wrestling, Greco-Roman 75 kilograms — Roman Vaslov, Russia