This is an archived article and the information in the article may be outdated. Please look at the time stamp on the story to see when it was last updated.
AUGUSTA COUNTY, Va. – A school district in Virginia was forced to close its doors on Friday after parents objected to a controversial assignment.
According to WTVR, the controversy began when a teacher assigned students at Riverheads High School a passage to write in calligraphy.
However, many parents are calling it 'Islamic indoctrination.'
"It asked him to copy the Shahada, the Islamic statement of faith which translates to "there is no god but Allah, and Muhammad is the messenger of Allah," said Kimberly Herndon.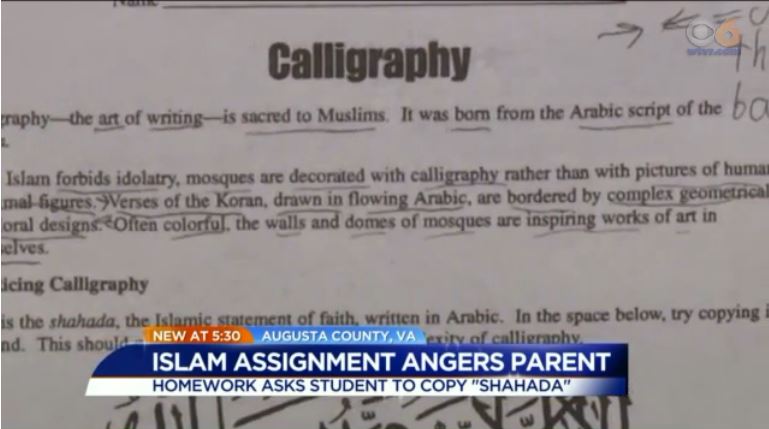 Herndon told WTVR that she was shocked when her ninth grader came home with the assignment.
The assignment said it was meant to give the students "an idea of the artistic complexity of calligraphy."
A statement from Augusta County schools says the district has been overwhelmed with phone calls and emails from parents.
"Following parental objections to the World Geography curriculum and ensuing related media coverage, the school division began receiving voluminous phone calls and electronic mail locally and from outside the area. As a result of those communications, the Sheriff's Office and the school division coordinated to increase police presence at Augusta County schools and to monitor those communications. The communications have significantly increased in volume today and based on concerns regarding the tone and content of those communications, Sheriff Fisher and Dr. Bond mutually decided schools and school offices will be closed on Friday, December 18, 2015. All extra-curricular activities are likewise cancelled for tonight, Thursday, December 17, through the weekend. We regret having to take this action, but we are doing so based on the recommendations of law enforcement and the Augusta County School Board out of an abundance of caution. Finally, the Augusta County School Board and Dr. Bond appreciate parents bringing concerns directly to our attention, and a constructive and respectful dialogue between school and community is always welcome. As we have emphasized, no lesson was designed to promote a religious viewpoint or change a student's religious belief. Although students will continue to learn about world religions as required by the state Board of Education and the Commonwealth's Standards of Learning, a different, non-religious sample of Arabic calligraphy will be used in the future."