This is an archived article and the information in the article may be outdated. Please look at the time stamp on the story to see when it was last updated.
DALE, OK -- Charles Dickinson snapped a picture with his camera phone as the May 19th tornado headed straight for his school.
"The tornado appears over the softball field and it is just massive," he said.
The Dale Public Schools superintendent hunkered down in the town's new storm shelter that also doubles as the school cafeteria. Two hundred other people in the community also took shelter. At the last second, the twister veered away and narrowly missed the school.
"I've never been through anything like that," Dickinson said.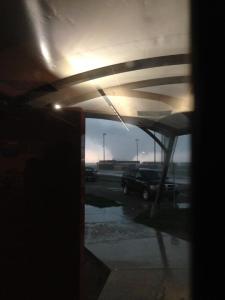 Because of the unusual design and colors, some people weren't sure if building the $2 million dollar shelter was a good idea. Now, there's no doubt in anyone's mind that it is absolutely necessary.
Only 18-months-old, the dome-shaped shelter is made of 9-inch reinforced steel, bullet proof glass, and surrounded by thick steel mesh. Dickinson thinks it is a safety that should be required.
"Every school in Oklahoma ought to have a storm shelter," he said.
As the area slowly recovers, residents in Dale take comfort in knowing they'll be safe when the next tornado hits.
"Luckily, we don`t have to worry about that anymore. We've got a place for our kids and our community," Dickinson explains.
Dickinson says 50 of his 700 students lost their homes in the tornado, but he expects most of them to return in the fall.