This is an archived article and the information in the article may be outdated. Please look at the time stamp on the story to see when it was last updated.

OKLAHOMA CITY – If you are one of the tens of thousands of drivers who drove through the intersection at Memorial and Penn. Ave. Friday, you may have seen a pan-handler who caught your attention.
It is, after all, one of the busiest intersections in Oklahoma City and a hot spot for homeless.
Calvin McCraw worked the north side of the intersection Friday holding a sign that read, "Angry?! Frustrated? Scream-At-A-Bum 50 cents / Min."

"I get a lot of people to laugh," McCraw said. "I worry about the ones that don't laugh. I'd rather get people to smile than get their money."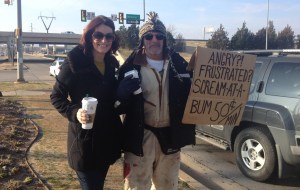 McCraw makes between $30 and $40 per day depending on how long he pan-handles.
Most people don't actually scream.
"I had one girl who paid me to take a picture of her choking me," McCraw laughed.
He moved to Oklahoma City from New Mexico to roughneck in the oil patch.
He said he can't work because he injured his hand.
He lives on the streets, borrowing some space on a friend's floor when it is particularly cold outside.
We spent about an hour with McCraw Friday morning.
No one screamed.