This is an archived article and the information in the article may be outdated. Please look at the time stamp on the story to see when it was last updated.
OKLAHOMA CITY -Governor Mary Fallin appointed Secretary of State Mike Hunter to attorney general Monday.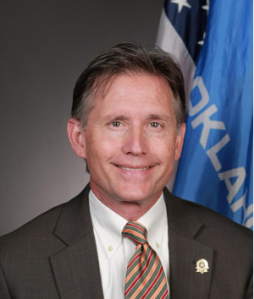 Hunter succeeds Scott Pruitt, who resigned after being confirmed by the U.S. Senate to become administrator of the Environmental Protection Agency.
Last year, Fallin named him secretary of state and special legal counsel.
Before that, he served as first attorney general under Pruitt.
He begins his new duties immediately.
"Mike understands the law and has a thorough understanding of state government, which will serve him and the state well," said Fallin. "Mike also understands the importance of public service and he will be a tremendous advocate to protect the basic legal rights for Oklahomans."
Hunter served as first assistant attorney general for Pruitt from June 2015 until October, serving as chief legal adviser and overseeing a staff of over 200 lawyers, law enforcement agents and support staff.
"I appreciate the confidence placed in me by Governor Fallin," he said. "I enjoyed working in her administration, and look forward to continuing to assist whenever possible to improve our state."
Pleased to name Secretary of State Mike Hunter as Oklahoma attorney general.He will do a great job. https://t.co/py4d0j6ydZ

— Governor Mary Fallin (@GovMaryFallin) February 20, 2017
Click here for more information on Mike Hunter.