This is an archived article and the information in the article may be outdated. Please look at the time stamp on the story to see when it was last updated.
OKLAHOMA CITY - The westbound lanes of I-44 are open Tuesday after a semi rolled on the 39th St. curve where Interstate 44 changes from westbound to southbound.
Officials said the wreck happened just before 2 a.m.
The semi carrying frozen chicken nuggets turned onto its passenger side.
Authorities said they don't know if weather or truck deficiencies led to the accident.
Oklahoma Highway Patrol's Brian Odom said, "Semi just came into the curve, not real sure why, struck the barrier wall, over-corrected and rolled onto its side."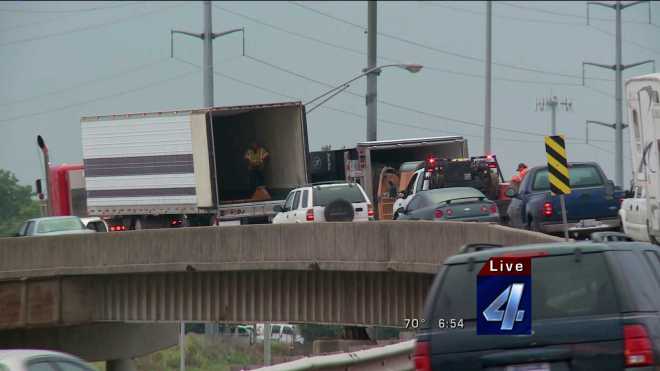 The nuggets that flew the coop required attention from the health department before officials could move the truck and clear the road.
The truck driver was not injured but the passenger in the sleeper of the truck wasn't as lucky.
"Passenger was complaining about some back pain, he was transported to the hospital," Odom said.
Officials said the driver is not facing any tickets or charges following this unexpected rollover.
They are still looking into what caused this truck to end up on its side.
The frozen chicken nuggets we're transported to a separate semi-truck and roads were back to normal after 8 a.m. Tuesday.