This is an archived article and the information in the article may be outdated. Please look at the time stamp on the story to see when it was last updated.
OKLAHOMA CITY –  Several people were taken to the hospital following a crash in north Oklahoma City Tuesday night.
The crash happened near N. Penn Ave. and N.W. 150th St.
Officials say a vehicle was traveling at a high-rate of speed and then slammed into two vehicles, causing a chain reaction crash.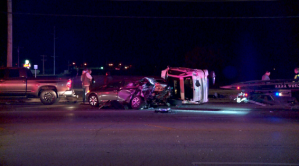 Five vehicles total were involved in the crash.
Several people were injured and taken to the hospital.
Thankfully, authorities say none of their injuries were critical.
Police are still investigating.